Exclusive
Real Housewife's Real Lawsuit: Joanna Krupa Consulting With Lawyer After Being Punched By Adrianna de Moura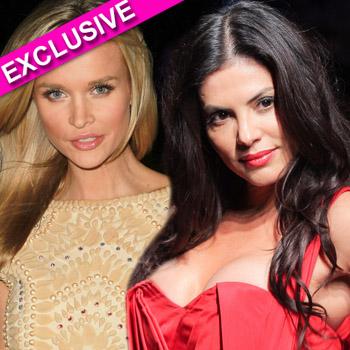 By David Perel - Executive Vice President/Managing Editor Radar
A violent encounter between cast mates on The Real Housewives of Miami is spilling over into a real-life legal drama, RadarOnline.com has learned exclusively.
Joanna Krupa, who was punched by Adriana de Moura in a wild scene of the suddenly popular show, is now consulting with a top lawyer to find legal recourse against de Moura, a source close to the situation tells Radar.
Article continues below advertisement
PHOTO: Joanna Krupa's Uncensored PETA Ad
"Joanna is not just going to take this," the source said. "She's reached out to one of Florida's most powerful attorneys to better understand her legal options after being punched in the face" on the show.
The beautiful star, who was also popular on Dancing with the Stars, has had to defend herself against others on the show, which has seen a surge in the ratings.
But the punch from de Moura, after a wild verbal argument, has moved beyond a ratings driver and is headed to a court room, the source claims.
"Not only did Adrianna punch her in the face, it took all of Joanna's strength to hold on to Adrianna as she was trying to break free and grab a broom that Krupa believes she was going to hit her with," the source told Radar. "Joanna is very nervous about any other altercations with Adrianna and wants to know what her options are."
Article continues below advertisement
PHOTO: Joanna Krupa Wears No Bra In See-Through Top
A lawsuit against de Moura is an option that is still in play, the source told Radar exclusively.
As Radar previously reported, tempers flared again on the show aired Sunday, with de Moura denying she hit Krupa, when confronted by the beauty.
"I never punched you in the face. Where are the bruises?" Adriana snapped. "Where are the bruises on your face?"