Battle Of The VERY Big Butts! Coco And Phaedra Parks Compete In Booty-lympics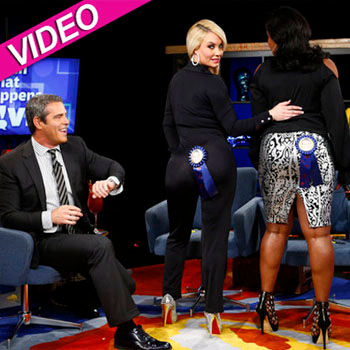 Article continues below advertisement
"Try not to crack under the pressure, may the best booty win," the host encouraged his two famous contestants, who faced off in three different challenges: Power Bottoms, Endur-A** Booty Bounce and Booty Balance.
In the first showdown, Coco, who was wearing super sheer, skintight black pants, prevailed by popping three balloons the fastest with her bombshell booty.
Coco also effortlessly won the second round, where both the beauties squatted down and had to see who could bounce their rump the longest.
But it was the third round that Ice-T's wife really showed off her skills. Challenged to balance a stack of quarters on her fantastically large behind, Coco took it to the extreme, taking Cohen's cocktail and placing it on her backside.
Coco recently showed off her roving reporter skills in the wake of Hurricane Sandy, posting a video of herself on YouTube.
Do you think Coco has the most bombshell booty in Hollywood? Sound off below.