PHOTOS: Hot Coco! The Best (And Worst) Of Ice-T's Curvy Wife In Her Bikini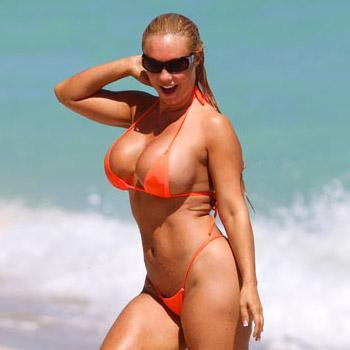 Ice-T's wife Coco has become an international icon, gaining fame for her dangerous curves and over-sized assets. The busty and boobiful blonde has spent a lot of time over the past year stripped down and sexy in miniscule bikinis. RadarOnline.com has scored photos of the full-bodied bikini babe from every angle in this special feature. To see Coco's bountiful bikini body, click the next sentence.
Article continues below advertisement
Click here to see Coco's scandalous bikini style
From her barely-there triangle tops (which hardly cover up her artificial assets!) to her barely-legal g-string bottoms, Coco isn't afraid of showing off 99% of her flesh in her skimpy swimsuits.
The former model, who married the famous rapper and Law & Order: SVU star in 2005, is always by her man's side‹proudly showing off her body, which makes the curvy Kardashian's look like stick figures.
Warm up this holiday season with a little hot Coco! To see the bikini babe in full force, click here.
RELATED STORIES: