Who Needs CNN? Roving Reporter Coco Shows Off Her Assets & Reporting Skills Live From Hurricane Sandy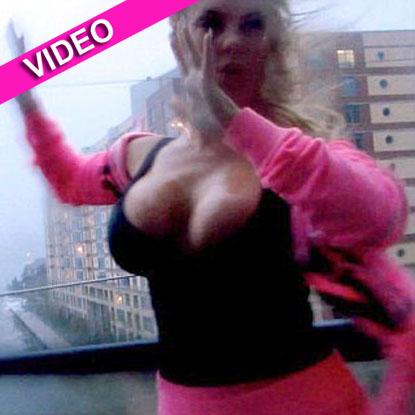 Is Coco trying to be the next Diane Sawyer?
In the wake of Hurricane Sandy, the bootylicious reality star attempted to show off her reporting skills on Monday, posting a video on YouTube of her soaking wet body on her balcony getting blown away by the wind, as well as tweeting live updates about the devastating storm – and RadarOnline.com has the video, photos and details about her on-the-field debut!
Article continues below advertisement
Wearing a soaking wet, skintight, hot pink tracksuit, with a dangerously lowcut black tank top that barely contained her artificial assets, the 33-year-old wife of rapper Ice-T braved the powerful gusts of wind to show her fans the status of the storm from a balcony in Edgewater, New Jersey.
"The wind is crazy," she reports. "The wind is pushing drops in your eyes. I am soaked. It is bizarre.
"It's cool but scary at the same time."
"In total blackness," read one of Coco's tweets late Monday night. "No power, streets r flooded. It's kinda creepy. I feel like I'm n Walking Dead show waiting on zombies 2 come out any minute."
What do you think about Coco's reporting skills? Sounds off below.