Atlantic City Under Water! Shocking Photos Reveal Ferocity Of Hurricane Sandy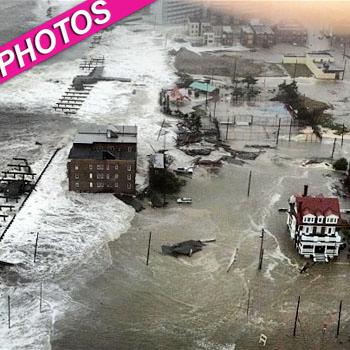 Batten down the hatches!
As Hurricane Sandy bears down on the East Coast thousands of people are fleeing their homes for safety, with most of Atlantic City currently under water, and RadarOnline.com has shocking photos of the devastation.
The Public Safety director gave the dire news in a press conference Monday as the water was rising and the winds increased as the worst of the hurricane approaches the gambling hot spot.
Article continues below advertisement
"The city's basically flooded," Willie Glass said. "Most of the city is under water."
CNN Correspondent Ali Velshi has been broadcasting from the pouring rain and gusting winds all day as the street floods around him just two blocks from the ocean. Give this man a raise!
Hurricane Sandy is about to make landfall, but Glass said that the city is "doing OK so far."
The Jersey Shore is getting battered too, with the water surging over the seawall in Cape May and gushing over the dunes in other seaside communities.
The Garden State Parkway is closed south of Atlantic City.
According to the New York Post, 35,000 homes and businesses across the state lost power on Monday.
Tom Foley, Atlantic City's Director of Emergency Management said they were checking the area looking for people who remained in their homes despite the evacuation instructions.
The casinos have hunkered down, with plywood tacked onto their windows and sandbags blocking the bottom of the door, but Bally's kept their outdoor sound system on.