Harry Talks Life On The Afghan Front Line, Blames Nude Scandal On Being 'Too Much Army & Not Enough Prince'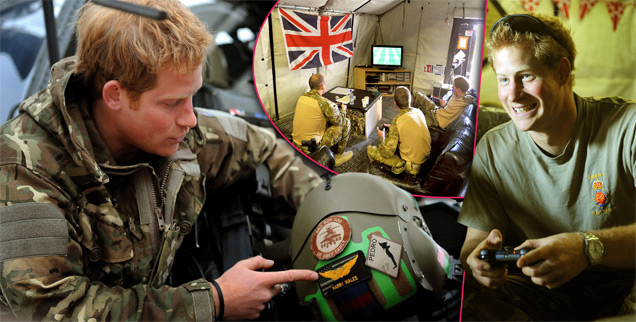 There may not be any direct blood on the royal hands, but Prince Harry has confessed that he has most likely shot down Taliban insurgents and sent them to their graves during his tour of duty in Afghanistan.
The 28-year-old prince and British army helicopter pilot made the frank revelation when asked if he had killed anyone during his five-month deployment as an Apache co-pilot gunner.
"Yeah, so lots of people have. The squadron's been out here. Everyone's fired a certain amount," he replied, according to BBC.co.uk.
Article continues below advertisement
"If there's people trying to do bad stuff to our guys, then we'll take them out of the game," he explained about his grueling second tour of the war-torn country. "We fire when we have to, take a life to save a life, but essentially we're more of a deterrent than anything else."
Harry went on to confirm that his main role is to recover injured troops rather than up the death toll of the enemy, "Our job out here is to make sure the guys are safe on the ground. Now if that means shooting at someone who's shooting at them, then we'll do it," he said.
Captain Wales , as the prince is known in the military, is the first member of the Royal Family to see active combat since his uncle, the Duke of York, fought in the Falklands War in 1982.
As RadarOnline.com previously reported, within days of his landing at Camp Bastion last September it was attacked by Taliban insurgents and Harry was sent under guard to a secure location . "Obviously the papers back home were like 'this is all against me'. No-one really knows yet," he explained about the attack, adding, "But either way, this camp is in the middle of Afghanistan and it should be expected to be attacked at any point... and it was on my birthday, so it was a bit of a reality check."
Article continues below advertisement
While Harry faces the wrath of the enemy overseas, his older brother and future King of England, Prince William, is stuck back in Wales flying rescue missions for the Royal Air Force. "Obviously he'd love to be out here and I don't see why, to be honest with you, I don't see why he couldn't," Harry said.
"No-one knows he's in the cockpit. Yes, he'd get shot at but, you know, if the guys who are doing the same job as us are being shot at on the ground, I don't think there's anything wrong with us being shot at as well.
"People back home have issues with that, but we're not special - the guys out there are. Simple as that."
The prince's countrymen had plenty to say about the royal ruckus Harry caused when he got caught in a nude scandal after showing his crown jewels during a raunchy party in Las Vegas last August, which he admitted was "a classic example of me probably being too much Army and not enough prince."
"But at the end of the day I was in a private area and there should have been a certain amount of privacy that one should expect," he added.
Article continues below advertisement
Generally the fun-loving royal does a better job of juggling his different roles in life, "You've got to be able to flick the switch all the time," he explained. "I think I said a while back there's three 'me's, as it were. One in the army, one socially - my own private time - and one sort of with the family and stuff like that.
"I like to think it's measured and balanced... Army comes first - it is my work at the end of the day."