Prince William & Kate Middleton To Spend Christmas With Her Family & Not The Royals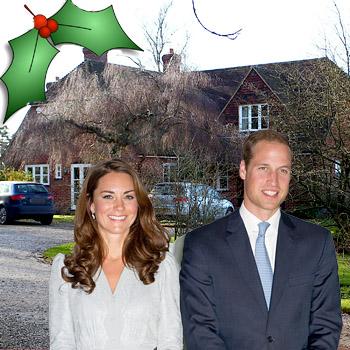 In a major relaxation of royal protocol, Kate Middleton and Prince William will spend Christmas at the Middleton family home in Bucklebury, Berkshire -- and not with the rest of the Royal Family, it was announced Saturday.
Speculation had been growing this week over whether Kate would join the Royals for their annual Christmas festivities at Sandringham, the Norfolk country retreat of HM The Queen. Although Kate desperately wanted to attend the annual dinner, it was decided she should rest with her family, as she's still recovering from severe morning sickness. The couple's decision to join Kate's parents, Carol and Michael, was approved by the Queen and the Duke of Edinburgh.
Article continues below advertisement
Kate's siblings, Pippa and James, are also expected to attend the family festivities.
Prince William will likely get a humorous insight into what life in the Middleton household is like on Christmas day, after it was revealed that Kate's dad, Michael, likes to wear fancy dress on the day!
Writing in a magazine earlier this year, Pippa said: "He buys a new costume each year and typically gets a bit carried away - a couple of Christmases ago, he appeared in an inflatable sumo outfit."
Pippa also said that Christmas in Bucklebury was likely to be "blissfully calm" and added: "Home is, happily, where I'll be this year."
She also said that the family was "good at keeping each other's spirits up' over the festive period."
One person who won't be joining any festivities this year is Prince Harry, who's serving as an Apache helicopter pilot in Camp Bastion, Afghanistan. He's expected, however, to engage in some Christmas cheer by serving Christmas dinner to hundreds of junior soldier stationed at the base.