Exclusive
Kate Middleton Vows To Attend Lavish Royal Family Christmas Dinner, Despite Prince William's Concerns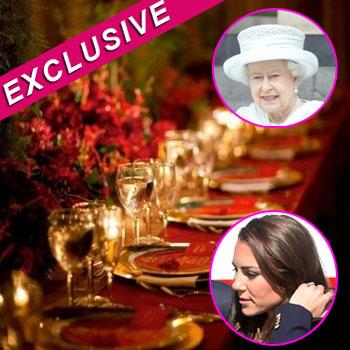 Article continues below advertisement
Kate, 30, has told William she will attend though, despite her ongoing health concerns and the array of rich foods that will be on offer!
"Kate doesn't want to disappoint the Queen, nor does she want to skip on her duties," a royal source tells RadarOnline.com.
"She feels she is obliged to appear at the annual Christmas dinner -- her first as the Duchess of Cambridge and doesn't want to let anyone down.
"William has his concerns though that she won't be up to it, and told Kate she shouldn't worry if she feels too sick to attend and that no-one will judge her negatively.
"Also, with Harry in Afghanistan for the holidays, William believes the meal will be less formal than in previous years and his grandma wouldn't mind if Kate was excused.
"But Kate isn't having it and is determined to be at the dinner, smiling as always," the source reveals.
Article continues below advertisement
As RadarOnline.com previously reported, mommy-in-waiting Kate looked the picture of health Sunday night when she made her first public appearance since leaving the hospital ten days ago.
The Duchess was on hand to give out awards at the BBC Sports Personality of the Year ceremony in London.
Looking gorgeous in a green Alexander McQueen dress, Kate was her usually svelte self and wasn't showing the slightest hint of a baby bump.