He Said WHAT?!! British Singer Morrissey Shockingly Blames Kate Middleton For Nurse's Tragic Suicide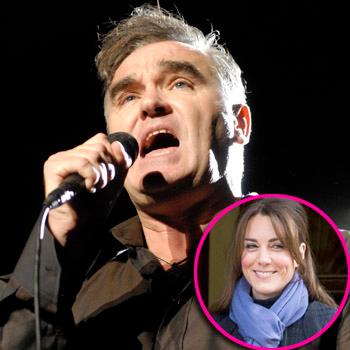 Article continues below advertisement
But Morrissey, who shot to fame in the 80s as lead singer of The Smiths, isn't slamming the radio personalities that were behind the hoax, and is instead pointing the finger of blame squarely at Middleton and the rest of the royal family.
"It wasn't because of two DJs in Australia that this woman took her own life, it was the pressure around her," the 53-year-old claimed in an interview with New Zealand's 3News.
The musician went on to say that he believes - despite the Royal Palace's announcement Middleton was suffering from a severe form of morning sickness called Hyperemesis Gravidarum - she was in the hospital for "no reason" and launched a scathing attack on the famous family and the way they have dealt with the sad situation.
"Even with the recent story about the nurse killing herself in King Edward Hospital, there's no blame placed on Kate Middleton who was in hospital as far as I could see for absolutely no reason," he said. "She feels no shame about the death of this woman; she's saying nothing about the death of this poor woman. The arrogance of the British royals is absolutely staggering and why it's allowed to be I really don't know."
Article continues below advertisement
As RadarOnline.com previously reported, following news of the suicide, a rep for the Duke and Duchess of Cambridge immediately released a statement, saying the couple was "deeply saddened" by the tragedy and added: "Their Royal Highnesses were looked after so wonderfully well at all times by everybody at King Edward Vll Hospital and their thoughts and prayers are with Jacintha Saldanha's family, friends and colleagues at this very sad time."
However, Morrissey continued his outrageous rant: "Does she have a health condition?" He asked. "Is it anorexia or is it pregnancy? I mean morning sickness already? So much hoo haw and then suddenly as bright as a button as soon as this poor woman dies she's out of hospital? It doesn't ring true.
"And I'm sure the Palace and Clarence House put maximum pressure on this poor receptionist and nurse and of course that's kept away from the press."