Exclusive
Shamed Bengals Cheerleader Vs Nik Richie: Judge Rules Mistrial, Have To Redo Trial All Over Again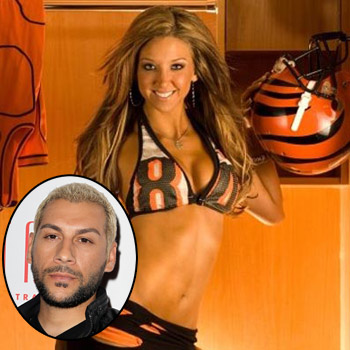 The judge presiding over the multi-million dollar defamation lawsuit shamed Cincinnati Bengals cheerleader and convicted felon, Sarah Jones, brought against TheDirty.com and it's founder, Nik Richie, ruled a mistrial Friday after the jury reached a stalemate, and RadarOnline.com has exclusive details from inside the court, and Richie's take on the proceedings
"The jury just ruled that they couldn't make a decision," Richie told RadarOnline.com shortly after leaving court. "Which means it was a mistrial and we have to do this whole thing all over again."
Article continues below advertisement
As previously reported, Jones, 27, from Covington, Kentucky, was convicted three months ago of having sex with a student who, at the time was just 17, and she's now suing Richie, and his popular Scottsdale, Arizona-based website, for $11 million, claiming defamation and invasion of privacy over alleged lewd comments made about her.
"Thankfully, it was not a loss, which would have been a huge disaster for the Internet and press freedom, as then all these other sites could be held liable for content posted by a third party," Richie explained. "But at the same time, I was really confident that we were going to win. When you consider the amount of lies about her innocence that she speed - to the cops, during interviews and TV appearances - that were later proven to be false after she 'fessed up and pleaded guilty, I really thought that the jury was going to find her not credible and rule in our favor."
Richie explained that the jury was asked to consider two main questions - first being: "Do you believe what was posted on the site was not true?" to which they voted 8-2 in favor of Jones.
"The second was 'Do you believe that Richie was acting in malice?' and that was 10-0 in favor of me," Nik said. "Obviously, they were in my favor because I never wrote the statements in question, they were posted by a reader of the site.
Article continues below advertisement
"When I was on the stand I was comparing her to Lance Armstrong, in that she has the same history of not telling the truth," he explained.
"I hoped the jury would have really taken that to heart but there was just so much misinformation given that it hindered them and they just couldn't get past it."
Having returned home to Los Angeles, Richie will now have to wait for a new court date and then head back to Kentucky to defend both his reputation and his fortune once again.