Bengals Cheerleader 'Is A Liar And A Child Molester,' Says Website Founder She Is Suing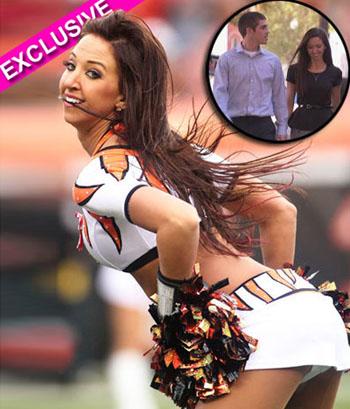 By Debbie Emery - RadarOnline.com Reporter
The Cincinnati Bengals cheerleader, who had adamantly denied having an affair with one of her high school students to the police and in the media, is now admitting that they are a couple, and RadarOnline.com can exclusively reveal that the website founder she is suing knew all along that the sex scandal was true.
Former Ben-gal Sarah Jones, 27, pleaded guilty on October 8 to sexual misconduct and custodial interference without having to serve any jail time for the illicit relationship with Cody York, who at the time was a 16-year-old student of hers at Dixie Heights High School in Kentucky. She also admitted sending explicit text messages to York and lying to police.
Article continues below advertisement
The morally questionable couple is now professing their love and revealing disturbing details of the underage teacher-pupil affair in an upcoming episode of Dateline NBC airing on Friday.
The revelation is a fitting vindication for Nik Richie, founder of TheDirty.com, who Jones is suing for defamation, libel, and invasion of privacy after his website published a post titled, 'The Dirty Bengals Cheerleader.'
"It proves what she is – she is a liar and a child molester. This just defines who her true character is and how she manipulates people into believing that she is someone she is not," Richie told RadarOnline.com in an exclusive interview.
"She fooled Anderson Cooper and she fooled Chris Cuomo, and the thing that people forget is that she was still married (to Nathan Wilburn) and she cheated on her husband with a student.
Article continues below advertisement
"The sad part is that she is going forward with her trial against me, which is just ludicrous," outraged Richie revealed.
"I am getting sued for $11 million for asking 'Why are all teachers freaks in the sack?' and she is just proving that she is one. They put out a statement right after she admitted she was a child molester that the lawsuit against myself is going forward and that it has nothing to do with this."
Meanwhile, media-hungry Jones is airing her dirty laundry to Dateline, where she admitted that, "It is wrong for a teacher to have any type of relationship that crosses the line with a student," reported NBC.News.com.
When asked if she feels guilty for the affair and its aftermath, the former English teacher replied, "Yeah, what I did was wrong… And I feel guilty as to what happened and that other people were hurt in this, in a sense from our families having to go through this."
Article continues below advertisement
While her supporters are no doubt shocked about her sudden change of story, Richie is not surprised at all! "We knew of this information and I never posted it because of the lawsuit out of respect and it is what it is. It proves who she really is," he told RadarOnline.com.
As a supposed role model for young people, Nik believes the biggest victims in this whole mess are "the students at Dixie Heights High. The way she has tarnished and ruined relationships with the school – that is the biggest issue.
"After all this, she keeps going to the media and Dateline and selling her story, and she is not even taking into account the reputation of that school and parents who have children there," he argued.
"She was the captain of the Cincinnati Bengals cheerleaders, and she wanted to be the voice of bullying and fight the Dirty," he said. "She wanted to be the role model for Dixie Heights High and now she is trying to turn it into a love story."
Article continues below advertisement
With Jones having dodged prison time thanks to the plea deal, Richie believes the case is an ugly example of the double standards of the legal system. "She got off scott free. If she was a male teacher she would be in jail right now. There is a double standard and that's not fair."
As for the youngster who she was charged with molesting, York, now 18, denies he was manipulated. "I didn't like being called the victim, because I wasn't a victim. I wasn't a victim of anything. She never did anything to me," Cody told Dateline.
"I don't know if they will stay together," said Richie. "He is a student and the nature of that is he is still learning.
"She is teaching this kid how to be a man and it is sad that she has him so brainwashed, but if they are in love, they are in love," he added.
The trial between TheDirty.com and Jones goes before a jury on January 22, meanwhile the Dateline special airs on Friday, October 19 at 10 p.m. on NBC.