Best Friend Sues Adam Carolla Over Hit Podcast Show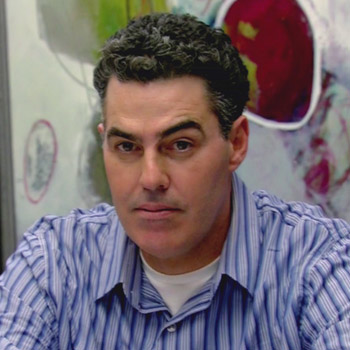 They say business and friends don't mix - and after being sued by his friend of 30 years, Adam Carolla might be inclined to agree.
Three former business partners have slapped the 54-year-old funnyman with a lawsuit, claiming he forced them out of his popular podcast radio show – a lucrative venture they say they worked hard to create.
DOCUMENTS: Adam Carolla Sued For Breach Of Partnerships Agreement
Donny Misraje, his wife Kathee Schneider-Misraje and Sandy Ganz filed court papers in Los Angeles on Thursday making a range of accusations against the star of The Adam Carolla Show that include breach of partnership agreement and violation of labor code.
Article continues below advertisement
In documents obtained by RadarOnline.com, Misraje argues he was the brainchild behind Carolla's popular daily podcast.
According to the lawsuit, in February 2009 the controversial presenter was at "a professional crossroad due to the abrupt cancellation of his syndicated radio talk show."
Misraje – a producer and editor – says he suggested his best friend start a daily podcast "in order to retain his avid fan base." Shortly after the first podcast was recorded the two formed a partnership, an agreement giving him 30 percent ownership of the company and Ganz 10 percent. Carolla was to receive 60 percent.
The company apparently couldn't generate revenue because Carolla's contract with CBS prevented the host from competing for advertising dollars until 2010.
According to the disgruntled partners, he allegedly told them they were "all in it for the long haul and would all get rich."
So the Misrajes devoted themselves full-time to the project, leaving high-paying jobs and living off a home equity line of credit.
Article continues below advertisement
They also claim to have invested their technical know-how, talent, time and more than $10,000 in personal equipment and supplies believing once the podcast was making money they would receive their fair share of the profits.
But once the business started to take off the former partners claim Carolla kicked them out in September 2011, allegedly preventing them from receiving the money they claim they are owed.