Adrienne Maloof Threatens To Sue Brandi Glanville: 'Don't Talk About My Family!'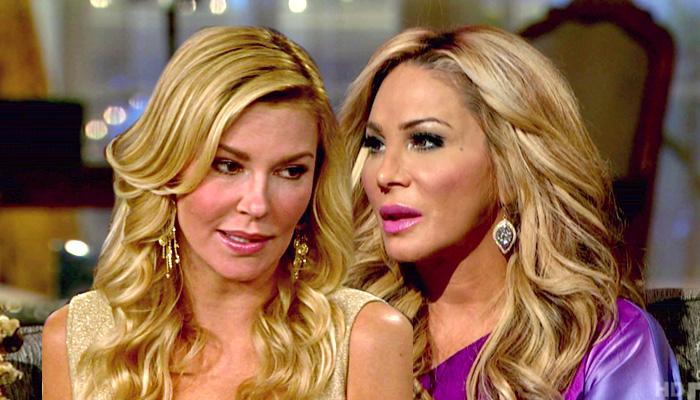 Just when you think things can't get anymore heated, The Real Housewives of Beverly Hills threw more coals in the fire when a cozy Moroccan dinner party goes awry when everyone finds out that Adrienne Maloof is threatening to suing Brandi Glanville over something very hush-hush, and RadarOnline.com has the details.
During Monday night's drama-packed episode of the hit Bravo show, Kyle Richards and new housewife Marisa Zanuck hosted a dinner at a Moroccan restaurant in L.A., and as they were setting up Brandy arrived with the bombshell news that Adrienne and her hubby Dr. Paul Nassif are suing her.
Article continues below advertisement
However, the reason for the lawsuit was never mentioned -- only that it was in reference to a very personal comment Brandi made about Adrienne.
"Adrienne has hired a lawyer and is threatening to sue me if I don't go to a meeting and sign a piece of paper saying that I won't talk about her or her family ever again," Brandi explained.
Lisa Vanderpump spoke her mind over the matter saying, "I don't like the fact that Adrienne is intimidating Brandi with her financial power."
Kyle's husband Mauricio Umansky soon jumped in with his own two cents.
"Let me tell you something. I've received attorneys letters for a lot of things," he said. "I picked up the phone and made a phone call, and the attorney's letter went away in two seconds."
"Wait a second," Lisa interrupted. "Wasn't it Adrienne who said over and over again friends don't sue friends?"
Brandi eventually admitted to the group that she's guilty of saying whatever it was that Adrienne felt warranted a lawsuit, but she angrily added that she felt her actions were justified at the time.
Article continues below advertisement
"I did say that…I did say it. And was I pissed? Mother f*ck yes I was pissed," Brandi yelled. "So go f*ck yourself. It's about my kids, and it's about my life, so shut the f*ck up!"
Meanwhile, Kim Richards, who's battle with alcoholism has caused many a catfight on the show, met with her life coach and admitted that even though she's in recovery and getting her life back on track, she's still hurt by the fact that Kyle called her out -- on-camera -- for being an alcoholic during the first season.
"There's a lot of things in my life that I could be angry about," Kim said. "If I don't let those resentments and anger go, it will burden and weigh me down every single day. I'll be a drunk in the corner."
She continued, "If you love anybody and you know they have a problem, I don't understand why you don't go to them in private."
However, later at the dinner, the sisters agreed to move on and begin to heal their relationship.
"Life is too short to hold grudges," Kim said. "We both need to work on it."
Watch the video on RadarOnline.com
What do you think Brandi said to fire up Adrienne and get her lawyers on the case? Sound off below!