What WERE You Thinking, Santa? The Worst Kids' Toys Ever!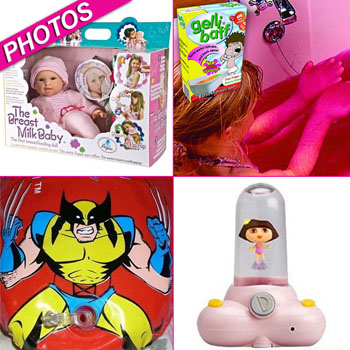 By Debbie Emery - RadarOnline.com Reporter
Santa can breathe a sigh of relief in the knowledge that these weird and wacky toys likely won't be on any children's Christmas lists this year!
From breast-feeding dolls to electric shock treatment games, it's hard to tell if some of these gifts are meant to be fun or an extreme form of torture for badly behaved girls and boys.
RadarOnline.com has the essential list, courtesy of our friends at Heavy.com, of kids' potential presents that should be banished to the land of misfit toys for the sake of the whole family!
Article continues below advertisement
Jibba Jabber
With its skinny body, over-size head and flash of green hair, the Jibba Jabber is an ugly looking thing, but even stranger is that kids are encouraged to shake it by the neck to make the noisy doll shut up. Children, do not try and reenact that tactic on your little brother or sister!
God Almighty Action Figure
For Christian children who have a lifetime membership to the NRA, the God Almighty Action Figure comes fully loaded with a Kalashnikov AK-47, an assault rifle and a "hollowed cloak of invulnerably."
Playmobil Hazmat Figurine Set
Who says that toxic waste can't be fun! For little boys who dream of cleaning up poisonous products instead of putting out fires or chasing bad guys, Playmobil has designed a Hazmat set to get them an early start in their career.
Breast-Feeding Doll
Little girls love nothing more than playing mom with a little pretend mini-me, however a doll that literally locks on to their (undeveloped) chests to pretend breastfeed "yum, gulp and burp" and recreate the magic of motherhood is taking realism a tad too far.
Article continues below advertisement
Kabba Kick
The Japanese are known for tortuous TV game shows that make the contestants scream in pain and terror, so it is no surprise that they also created a Russian roulette game that is like The Deerhunter for minors. When playing the Kabba Kick, daring players place a gun to their head and pull the trigger as pink hippo feet come out and kick them in the head.
Lightening Reaction Extreme
The best games are based on skill and speed, so what better way to encourage trigger reactions than by having the loser get an electric shock bolt up their arm?