Dr. Drew Is 'Stunned' By Erin Brockovich's Revelation Over Teens' Mystery Illness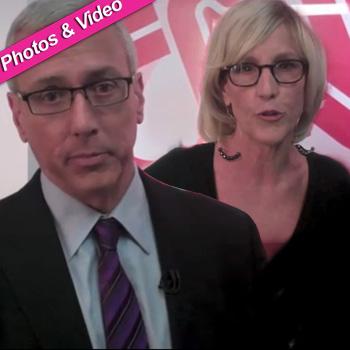 By Debbie Emery - Radar Reporter
Dr. Drew Pinsky has joined forces with environmental activist Erin Brockovich to investigate why more than a dozen teenagers are suffering from mysterious Tourette-like symptoms and seizures, and RadarOnline.com has video of their findings.
"I'm stunned by what she had to say," revealed the TV doctor backstage at his HLN show after meeting with Brockovich.
The pair have both committed to discovering the cause of the bizarre illness that struck down the teens from LeRoy High School in upstate New York, who all developed tics and involuntary verbal outbursts.
Article continues below advertisement
"What she told us is that there was a major chemical spill off a train derailment in the 1970s that 25 years later they discovered was still profoundly present in the soil and bedrock of that community," explained Dr. Drew.
"The leading edge of that toxic chemical was heading towards the high school and perhaps right at that athletic field that has been in question.
"I plan to get up there next week. This is not something we're going to let go. I like the fact that we're finding leads. This may not lead to an explanation for this actual outbreak, it's possible that we might find out something that could save thousands of lives."
Also talking about the case backstage was Brockovich, who rose to fame when she was instrumental in constructing a case against the Pacific Gas and Electric Company in 1993. Her story was then turned into the Oscar-winning movie, Erin Brockovich, starring Julia Roberts.
"We have a team going out there," explained the outspoken activist. "They're going to be doing a site assessment, they're going to be meeting with the families, they're going to go to the original derailment site.
Article continues below advertisement
"We're going to be getting more eye accounts and documentation of the spill, how far the plume has gone, if that plume has reached the school. We're going to begin some testing, so that will be the next step," she explained, talking about the 1970 crash that spilled cyanide and an industrial solvent called trichloroethene close to the site of the school.
"This is a big puzzle and there's only one piece right now and the only piece is these girls and their symptoms."
As RadarOnline.com previously reported, Dr. Drew is currently casting for a new rehab show without celebrities that will focus on everyday people who suffer from addictions and who are brave enough to showcase their struggles on television.
Watch video of Dr. Drew's reaction to Erin's findings below:
Erin talks about her discovery backstage below:
RELATED STORIES: