Sharon Osbourne Dishes On Painful Plastic Surgery, Claims Everything Is 'Lifted, Cut Up Or Sewn Back On!'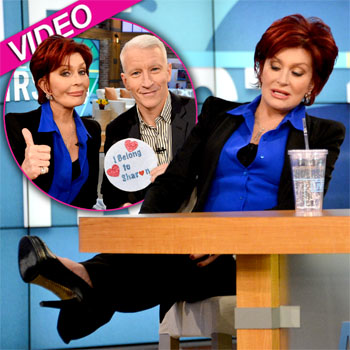 Article continues below advertisement
"Everything! There's not one thing I haven't had lifted, cut or sewn back on," replied Sharon candidly, to a burst of laughter and applause from the audience.
"The most painful was probably a leg lift. Well I had them both done, not just one," she giggled.
Appearing totally perplexed and confused, Anderson asked: "Well I guess if you are going to do your legs you are going to do two. What does a leg lift do?"
The reality TV matriarch went on to dish all the gory details, describing the procedure as, "It's like putting on a pair of socks, when you do this they pull your leg up, cut and resew it. Quite fabulous.
"I'll tell you what, they wake you up because they want you to start moving around after all this surgery. So they wake you up and I said 'you've sewn my legs together!' It felt like they literally sewed my legs together," she revealed.
Article continues below advertisement
"It was hanging down and I wanted it tight. That hurts, I wouldn't advise it and to pee it's awful when you've had that done. Wicked," gushed the 60-year-old as she dished TMI to confused Cooper.
"I don't really want to visualize that. I am sure your legs were fine," the shell-shocked CNN host, who appears to be far more comfortable getting shot at in a war zone than chatting about The Talk host's private parts!
Anderson Live is a nationally syndicated talk show, visit AndersonCooper.com for local listings.