What Happened To Your Face? The 10 Most Shocking Plastic Surgery Transformations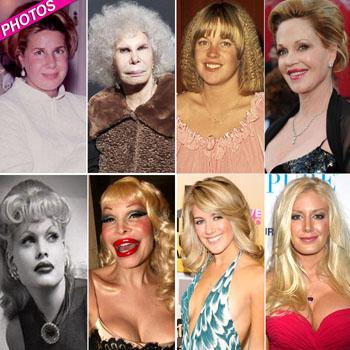 Talk about dramatic plastic surgery transformations!
While a number of Hollywood stars, public figures and international royalty may indulge in a little Botox or lip injections, others take their desire to look younger, fresher or more beautiful to dangerous extremes. RadarOnline.com has photos of 10 celebrities who have dramatically changed their faces to nearly unrecognizable extent using cosmetic surgery.
Article continues below advertisement
While most people start going under the knife later in life, Heidi Montag decided to get an early start. After appearing as a gorgeous girl next door on the hit reality show The Hills in 2006, in late 2009, the blonde beauty underwent several procedures in one day, resurfacing early the next year looking shockingly different.
The Duchess of Alba scored headlines in 2011, when the 85-year-old wed a man 24 years her junior. The eccentric Spanish Royal has reportedly gone under the knife several times over the years, and from the looks of her in 1968, we believe it!
If your husband liked big cats, would you pay a fortune to transform into one? New York socialite Jocelyn Wildenstein, aka The Catwoman, reportedly spent over $4 million to keep her billionaire art dealer hubby happy, but it didn't quite work. She ended up divorcing him when she found him in bed with a 19-year-old Russian model.
Which other stars have gone too far with plastic surgery? Find out by clicking here.