Kelly Osbourne Opens Up About Mom Sharon's Double Mastectomy, 'She Got Rid Of Her Fun Bags'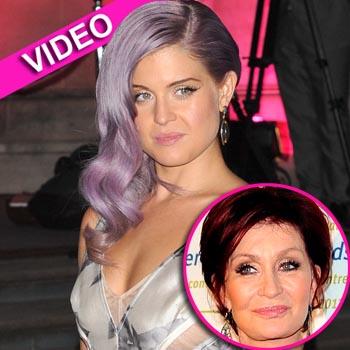 By Debbie Emery - RadarOnline.com Reporter
Bubbly TV personality Kelly Osbourne showed her serious side to Anderson Cooper when talking about her mom's recent life-changing decision to have a double mastectomy.
"There was a lot going on, she did this genealogy testing and it showed that she did have the gene for breast cancer, and because she already had cancer she decided to get rid of it and rebuild them because she did have a breast augmentation," Kelly reveals on the upcoming episode of Anderson Live. "So she got rid of the 'fun bags' as I call them, and had her boobs done."
Article continues below advertisement
As RadarOnline.com previously reported, 60-year-old family matriarch Sharon Osbourne explained earlier this month that "the odds" would not be in her favor if she didn't go through with the procedure, which she called "a no-brainer."
The America's Got Talent judge's daughter supported her decision to get the surgery, telling Anderson: "It was very serious, it was a lot of stitches. I was looking after her when it happened.
"I totally agree with her and why she did it, it is better to be safe than sorry, especially when you are a cancer survivor already," said Kelly, referring to Sharon's battle with colon cancer 10 years ago.
"Your mom is an amazingly strong woman, I love her – she is so great and she is so sweet," gushed Anderson. "I hadn't really met her but she reaches out to people, and really makes an effort."
"I think we are all like that, because my parents came from such humble beginnings," replied Kelly. "We realize and they bred it into us that always treat people the way that you want to be treated, and you meet the same people on the way up as you do on the way down. You just have to be nice to everyone."
Article continues below advertisement
It has been a tumultuous year for the Osbourne family, as Jack, 26, was diagnosed with multiple-sclerosis just months after becoming a father for the first time. The new dad to six-month-old Pearl put his health problems aside and married Lisa Stelly in a lavish ceremony in Hawaii in September.
Anderson Live is a nationally syndicated talk show, visit AndersonCooper.com for local listings. The full interview airs on Monday.