And The Grand Prize Winner Of America's Got Talent Is...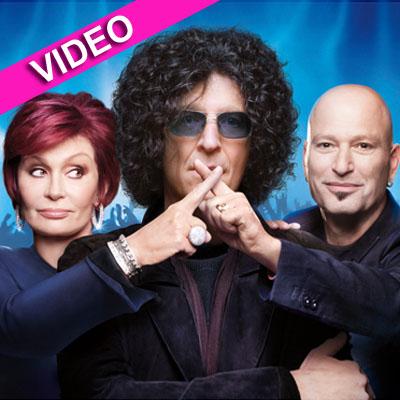 The grand prize winner was crowned on Thursday's live America's Got Talent finale, with Howard Stern, Sharon Osbourne and Howie Mandel evaluating the final six acts in contention for $1 million and a Las Vegas show of their own.
With all the controversy swirling around Howard Stern's presence on the show this season, many predicted the show's seventh season would go to the dogs, and it did: The Olate Dogs!
Article continues below advertisement
The canine act, orchestrated by father-son trainer team Richard and Nicholas Olate, claimed the top prize on NBC's summer talent competition, edging comedian Tom Cotter for the honors.
In their final act, the Houston-based troupe put on a magnificent display that saw the pooches perform a gauntlet of tricks, impressing the crowd and voters.
"I've been upstaged by a dog," Howard joked. "Wouldn't be the first time!"
While Cotter fell short of the seven-figure windfall, he made for a memorable moment when he roasted the show's celebrity quartet.
America's Got Talent: Howard Stern & Co. Find Booms & Busts In Las Vegas
"Who are these guys to judge us?" he said. "Seriously. You've got a germophobic game show host, the bride of the Prince of Darkness, and Fartman -- please. What do we know about them? We know that Howie lives in L.A., that Howard lives in New York City, Sharon lives in a castle in England.
Article continues below advertisement
"And Nick lives in Mariah Carey's house!"
That's when Joan Rivers, in a special cameo, got on on the act.
"You're too nice -- so let me show you how to do it," Rivers told Cotter. "Look at this panel: If I want to see three people who make tons of money and have no talent, I will not watch you guys -- I will watch the Kardashians!"
As for the rest, William Close came in third, David Garibaldi and his CMYKs finished fourth, Joe Castillo came in fifth and The Untouchables finished sixth.
Thursday's show from Newark, New Jersey, which included performances from the Blue Man Group, Justin Bieber and Ne-Yo, also marked Sharon's final program after she quit in protest of the way she felt NBC treated her son Jack. (He was cut from an upcoming show on the network following his multiple sclerosis diagnosis earlier this year.)
Watch the video on RadarOnline.com
Following the episode, she sent a number of sentimental tweets despite her acrimonious split with the network: "@nbcagt is the best variety show in the world. It's been 6 great years, but time to move on. #AGT
Article continues below advertisement
"Thank you to the @nbcagt crew, producers, and artists. It was a great honor to work with Syco and Fremantle. My last @nbcagt results show ever," she wrote. "I want to thank @SimonCowell for keeping me employed for the last 9yrs. Good Luck tn on @TheXFactorUSA!"
Sharon Osbourne Leaving America's Got Talent After NBC Fires Son Jack
Wrapping up his first year after replacing Piers Morgan, the King of All Media said "it's been an honor to be here for this first season," praising the parade of performers who kept him entertained.