Howard Stern Asks 'Is That Jesus?' On America's Got Talent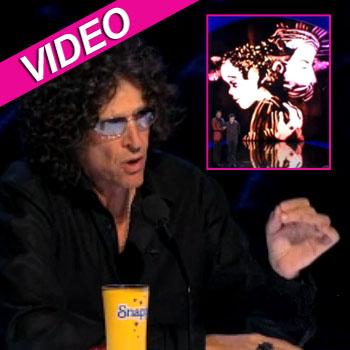 The first week of semifinals began on Tuesday's live edition of America's Got Talent, as Howard Stern, Sharon Osbourne and Howie Mandel evaluated a dozen of the remaining 24 acts in the running for $1 million and a show at the Venetian Hotel in Las Vegas.
Among the standouts:
Donovan Jones and Rebecca Peache -- the incredibly-agile husband-and-wife team known as Donovan and Rebecca -- impressed the crowd with a nimble performance punctuated by an exhilarating finish in which they were suspended over the strange on a trapeze. The crowd delivered a standing ovation at the end of the act.
Article continues below advertisement
"This is a spectacular act, you can hear the crowd going crazy…I believe the strength of this act is, Rebecca is so strong," the outspoken Howard said. "Every time you see it, is is remarkable."
Sharon joked that she could grate cheese on Rebecca's abs.
Howie was equally moved, adding unique acts like Donovan and Rebecca are precisely what separates America's Got Talent from other TV talent shows.
"AGT is the only place you can see an act like this…you can see a dancer somewhere else, you can see a singer somewhere else…I've never seen anything like this."
Elsewhere, artist Joe Castillo put on an eclectic sand art display set to Get Together by the Youngbloods, arranging the grains to form images of a bird into clapping hands into a depiction of Jesus and a baby.
"From a performance standpoint, the audience might feel that they've seen all of this before…I don't think you're gonna go through," Howard, who said he's a "super fan" of the routine, told Castillo.
Article continues below advertisement
"Is that Jesus?" Howard asked of the image, to which Castillo said, "The beauty of artwork is you see what you need to see."
Howie then chimed in, "Howard is Jewish -- he doesn't recognize Jesus!"
"Oh, I know Jesus," Howard said. "Jesus was Jewish!"
Howie said he likes Joe's act "each and every time" he sees it, while the outgoing Sharon said the sequence of sand images was "beautiful."
Watch the video on RadarOnline.com