Olympic Superstar Gabby Douglas Co-Hosts America's Got Talent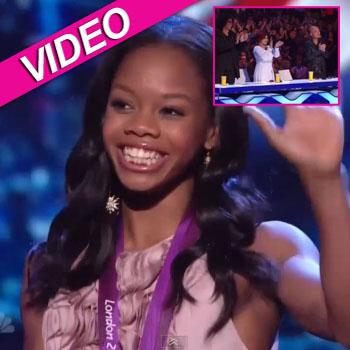 Olympic gold medalist Gabby Douglas joined Howard Stern, Sharon Osbourne, Howie Mandel and Nick Cannon on the cast of America's Got Talent Wednesday, serving as co-host on a night in which contestants culled from Youtube videos were evaluated on the show.
A glammed-up Gabby -- who was welcomed with a standing ovation and U-S-A chants from the crowd -- wore her hair down, shiny pants and heels, to go with the two gold medals she earned in London.
Article continues below advertisement
"Such a pleasure, such an honor," Cannon told the media sensation, who said the adulation from the crowd left her feeling "so honored.
The 2012 Olympics "was definitely such an amazing experience," the poised 16-year-old said. "I was just so happy representing Team USA and being up on the podium."
On the show Wednesday, the four Youtube acts left standing of the 12 brought onstage were Academy of Villains; Bria Kelly; The Magic of Puck; and Clint Carvalho and his Extreme Parrots.
The program also included a preview of Justin Bieber's new video, As Long As You Love Me; viral comic Randall "The Honeybadger Whisperer"; and a segment chronicling a day in the life of Stern, from doing his radio show in Manhattan to traveling to New Jersey to tape the NBC hit.
"To go out into the public, meet people, see a reaction … I'd say it's the most fun job you could ever have," the King of All Media said of his TV gig.