A Little Too Close For Comfort! Anderson Cooper Ducks & Covers During Massive Gaza Bomb Explosion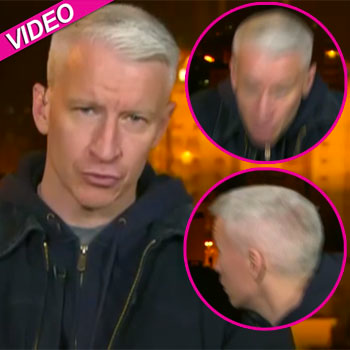 By Debbie Emery - RadarOnline.com Reporter
Back in the war zone after recently focusing on his daytime talk show, Anderson Cooper had a startling close call on the Gaza frontline when a rocket exploded close to where he was reporting.
The CNN anchor was forced to duck for safety and shouted in shock when a huge explosion went off during his live report on Sunday while covering the ongoing conflict.
Cooper, 45, was in the middle of discussing the death toll, which has risen to more than 100 Palestinian and three Israeli fatalities, with Don Lemon when a bomb blast lit up the screen, forcing him to nearly dive out of the camera's frame.
Article continues below advertisement
"Whoa!" yelled Anderson in shock, but he quickly regained his cool. "Well, that was a rather large explosion. That was probably the largest explosion that we have heard just in the past - really in the past hour."
After explaining that it wasn't clear where the explosion had come from, the ultimate professional went on to describe what it is like to be in Gaza during the troubles.
"There's a lot of fear," he said. "People are bone-tired. You know, this has been going on for days now. There's this constant sound of the drones. It is a very eerie feeling. It's a very strange feeling."