SNL Breaks Down Petraeus Sex Scandal Winners & Losers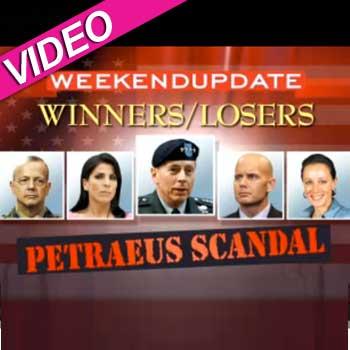 Leave it to Saturday Night Live to break down the winners and losers of the David Petraeus sex scandal.
At his Weekend Update desk, Seth Meyers easily takes the complex scandal down to its basics.
Jill Kelley -- described as a "Tampa socialite" or "unpaid social liaison" is a loser because it always sounds like she's a "prostitute," offers Meyers.
And you might think her friend, Gen. John Allen, is a loser because he lost his job. But his job was in Afghanistan! "Well played, General," Meyers says.
Article continues below advertisement
And, of course, there's Florida, home of MacDill AFB, where both former CIA Director Petraeus and Gen. Allen met Kelley who was then viewed as a love rival by Petraeus' mistress Paula Broadwell -- setting off the entire scandal.
"Florida, every time there's a sordid scandal, your name comes up!"
Hysterical!
RELATED STORIES:
Trouble In Paradise For Miley & Liam? Hemsworth Spotted Getting 'Very Cozy' With Mystery Blonde
Jessica Simpson Falls Off Diet Wagon Over Stress Of Dad's Gay Scandal
Robert Pattinson & Kristen Stewart Laughing & Joking In First Joint Interview Since Cheating Scandal