Petraeus Mistress Paula Broadwell Makes Show Of Unity With Husband Scott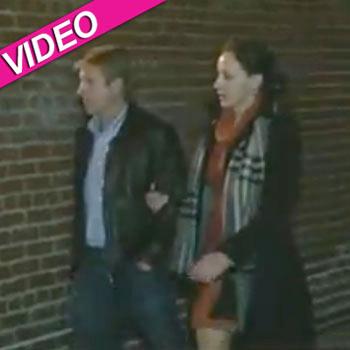 Dr. Scott Broadwell is apparently standing by his woman, the infamous Paula Broadwell, whose affair with David Petraeus ended his career as CIA Director.
For the first time since the sex scandal broke on November 9, Broadwell was seen in public with her radiologist husband.
Early Saturday evening, the two drove together to her brother's home in the Washington, DC suburbs, and then walked arm-in-arm from the car to the front gate, as seen on CBS Evening News.
Article continues below advertisement
The Broadwells live in Charlotte, North Carolina, where they are raising their two sons. They were away celebrating her 40th birthday when news of her affair broke.
As RadarOnline.com reported, the "other woman" in this scandal, Jill Kelley, has called Broadwell a "criminal" and a "stalker" in an email she sent to the mayor of Tampa, Florida.
Broadwell wrote a biography, All In: The Education of General David Petraeus, and the pair began their affair as he retired from the U.S. Army, where he was an esteemed four-star general, to take over the job of CIA Director last September.
It ended early this summer when Petraeus confronted her about threatening emails she was sending to Kelley, a Tampa socialite, telling her to stay away from the General.
Petraeus has now resigned as the nation's top spy, Broadwell is under investigation by the FBI and the intelligence community, and Kelley has been banned from MacDill AFB in Tampa where she met Petraeus.
RELATED STORIES:
Trouble In Paradise For Miley & Liam? Hemsworth Spotted Getting 'Very Cozy' With Mystery Blonde