Might Not Want To Plan A Getaway Here! The World's Most Horrifically Dangerous Cities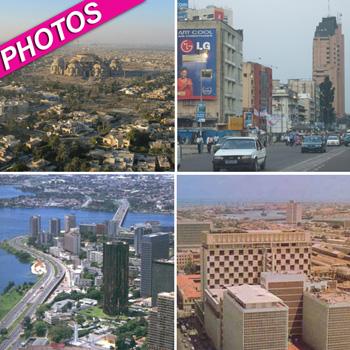 By Debbie Emery - RadarOnline.com Reporter
Planning a fall getaway or a pre-holiday season escape?
RadarOnline.com has compiled the list of places NOT to go to as we reveal 2012's most dangerous cities in the world.
A recently released study by Mercer Consulting ranked the cities by their safety levels based on internal stability, crime levels, law enforcement effectiveness and the host countries' international relations, reported CNBC.com, especially in relation to international travelers.
Article continues below advertisement
7. Tbilisi, Georgia
Located on the Black Sea north of Russia, Georgia has long been plagued by crime and violent protests, such as a car bomb attack on the Israeli Embassy in February. Civil unrest peaked during the economic crisis in the 1990s and lasted until the Rose Revolution of 2003. Last week saw the worst upsurge on violence on the Russian-Georgian border since 2008, following a clash between between Georgian security forces and a band of North Caucasian fighters that killed 12.
6. Karachi, Pakistan
Several terrorist and sectarian attacks in Karachi since 2011 have elevated the Pakistani city on the danger list. Both U.S. and UK citizens have been urged to keep a low profile and avoid large gatherings and public places, especially on Fridays, which are a Muslim holiday. According to the BBC.co.uk Karachi is also the most dangerous city in the world for journalists with Taliban terrorists carrying out an attack on a TV station in the southern port city last June.
Article continues below advertisement
5. Kinshasa, Democratic Republic Of The Congo (DRC)
The Congo was devastated by a 1998 war dubbed the "African World War" involving nine nations, 20 armed groups and the deaths of 5.4 million since then, and despite signing peace accords it is still a terrifying hotbed of rape and sexual violence. Now commonly referred to as the DRC or DR Congo, it is the largest country in central Africa and the second largest in the continent. The capital city of Kinshasa is especially dangerous because it is run by groups posing as law enforcement agents who haunt the streets at night looking for victims, and even the street children are becoming increasingly aggressive. Some gangs use girls to lure people into traps; others promise cut-price gold and diamonds to rob foreigners, including in daylight, reported CNBC.com. Even those in power are not beyond corruption and in the past year, several U.S. citizens were illegally detained by government forces.
4. Bangui, Central African Republic
There have been continued outbreaks of violence in the Central African Republic city of Bangui since 2011, prompting U.S. officials to strongly urge travelers to steer clear to enforce curfews. Incidents of theft, robbery, and armed gangs are common occurrences, with some European travelers even being attacked while on scenic walk tours. For those daring enough to visit Bangui, leaving may not be as easy as they think as in some cases, U.S. citizens have been arrested and detained without due process and housed in harsh prison conditions. Those freely walking the streets are often harassed for bribes at armed military and civilian checkpoints.
Article continues below advertisement
3. Abidjan, Ivory Coast
The political upheaval in Abidjan has continued since the arrest of of former President Laurent Gbagbo on April 11, with muggings, robberies, burglaries and carjackings all rampant in the former Ivory Coast capital city. In 2004, virtually all prisoners were released, dramatically increasing the crimes and drug seizes, which a corrupt and lax police department seems to do little to curb. Along with the crime wave, Yellow fever, cholera and measles have all been reported there since 2011.
2. N'Djamena, Chad
Despite an improving security situation in Chad since a peace agreement with Sudan in early 2010 and no official travel restrictions against visiting the capital of N'Djamena, the American government still advises greatly against going there due to the threat of kidnapping and terrorism sparked by the upheaval of nearby Libya. The land-locked African country has long been plagued with violence, with many conflicting political parties fighting for power and recurrent attempted coup d'etats making it one of the poorest and most corrupt countries in the world, with most people there living in poverty as subsistence farmers. It has been deemed a "failed state" by the Fund For Peace, a Washington DC-based non-profit that "works to prevent violent conflict and promote sustainable security."
Article continues below advertisement
Jillian Michaels Adopting A Baby From The Congo
1. Bagdad, Iraq
Not surprisingly, the war torn city of Bagdad reigns number one as the place to avoid unless you are enlisted in the armed forces. The U.S. State Department and British Foreign Office have warned their citizens not to visit Iraq's capital city unless it is essential, and in which case to do so only with private security. The continued danger has been emphasized by constant attacks and threats in the "Green Zone" including improvised explosive devices, car bombs, suicide bombs, land mines, mortars and shootings using various direct fire weapons. With an infrastructure that has been torn apart by bombings and streets that are filled with unpredictable violence, Bagdad has been a hotbed of political instability long since the U.S. Invasion in 2003 despite the troop withdrawal in December, 2011.