40-Foot Whale Shark Hauled In By Pakistani Fishermen, Sold For $18,000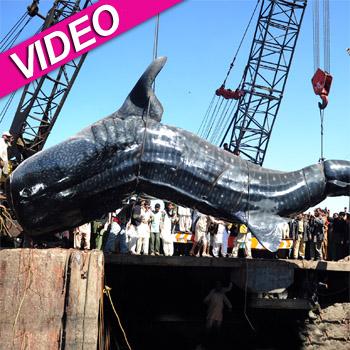 By Debbie Emery - Radar Reporter
A group of Pakistani fishermen had the biggest haul of their lives on Tuesday when the carcass of a massive 40-foot, seven-ton whale shark was pulled out of the water, and RadarOnline.com has video of their biggest catch.
The giant fish, which is a threatened species, was first spotted unconscious 10 days ago 150 kilometers off shore, and it took five cranes to lift its carcass onto the dry land in the port of Karachi while a crowd of fascinated onlookers watched.
Article continues below advertisement
The shark was later sold for its meat for 1.7 million rupees, the equivalent of $18,000.
It is illegal to hunt whale sharks, which is the largest extant fish species even though the gentle giant filter-feeds on plankton and algae, but it is continued to be highly sought after and Pakistan is ranked 12 among shark exporting countries.
"Of course, illegal hunting still goes on, and whale sharks being migratory, still play a game of Russian Roulette passing through international waters or the waters of nations like Bangladesh, where they are still not protected and ruthlessly hunted," revealed the blog SubaDivingPhuket.com.
They have increasingly become victims of the demand for shark fin soup and many are mutilated by hunters and left to die.
In 2008, the International Union for Conservation of Nature placed whale sharks on their red list for threatened species.