Tyler Hamilton Tells Anderson Cooper About 'Blood Doping' With Lance Armstrong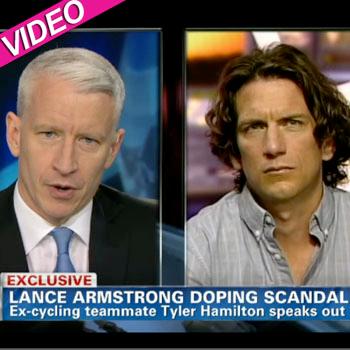 The hits keep on coming for Lance Armstrong.
On Friday night's edition of Anderson Cooper 360, former pro cyclist Tyler Hamilton said "the first time I ever blood doped was with Lance Armstrong."
Hamilton rode with Armstrong for several years as part of the U.S. Postal Service-sponsored team, and is currently under a nine-year-long ban from competition because of his own failed drug tests.
Article continues below advertisement
Talking to Cooper on his CNN show, the author of The Secret Race insisted he doped "so I could be a good teammate for Lance."
He also said Armstrong applied intense pressure on other, younger teammates to dope, something the United States Anti-Doping Agency chronicled in its scathing report about the seven-time Tour de France winner.
As RadarOnline.com has been reporting, Armstrong has been stripped of his Tour de France titles. He is also banned from competing in any competition in any sport covered by the USADA.