Heartbreaking Images And Stories Emerge Of Hurricane Sandy's Victims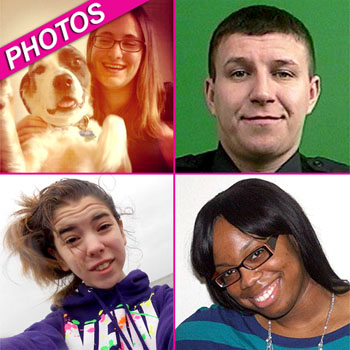 By Alexis Tereszcuk - RadarOnline.com Entertainment Editor
As the death toll grows in the aftermath of Hurricane Sandy the identities and heartbreaking stories of the victims are emerging -- and RadarOnline.com has photos of some of the people who tragically lost their lives in the storm.
Jessie Streich-Kest, 24, and Jacob Vogelman, 23, were crushed by a falling tree in Brooklyn while they were walking their dog on Monday evening. Sandy's high winds downed so many trees on the street that their bodies were not found until Tuesday morning.
Article continues below advertisement
A neighbor said they didn't realize the young couple was buried under the trees. "We had no idea. I was outside taking pictures of my house for the insurance when a cop said 'back up, back up' and I saw a young man dead under the tree," Pat Atia told the New York Times.
Another neighbor of Jessica's spoke fondly about her. "Jessie was first a student and then a friend of mine. I can't believe that she's not here anymore.
"Her passion for animal welfare, political activism, and her new career as a high school teacher were so amazing,"Matt MacLean said.
Her family also released a loving statement: "Just 24 years old, Jessie Streich-Kest left a lasting impression on all who met her, and especially on her students at Bushwick HS for Social Justice, to whom she was deeply committed."
Max the dog survived and was taken to a nearby veterinary hospital to be treated for possible head trauma.
Article continues below advertisement
23-year-old Lauren Abraham died after being electrocuted by a downed power line on 105th Avenue in the throes of Hurricane Sandy.
Apparently witnesses watched helplessly as her body burned.
"A half-dozen or so witnesses watched in utter horror. They said her body burned for about a half-hour before the police and firefighters arrived," the NY Times reported.
"I looked out my window and I saw the girl across the street taking pictures of the live wire sparking near my car, so I ran outside to move my car," Lauren's neighbor Mahendra Chetram said.
"Her body was gyrating, smoke was coming from her."
Lauren's close friend Elpidio Nunez told how as a makeup artist Lauren always wanted to help her friends look gorgeous.
"She was a beautiful girl, very carefree, she was never depressed. I had never seen her cry."
One of the youngest victims was Angela Dresch, just 13 years old, who was found dead after her home was flattened to the ground when the storm surged.
Article continues below advertisement
And then there's the tales of heroism -- off-duty police officer Artur Kasprzak, 28, died in the basement of his home after helping six people escape from the rising flood waters. He helped his family members evacuate the home, then returned to check on the basement and never emerged.
Hurricane Sandy has claimed at least 40 lives in eight states and officials expect the death toll to rise and homes destroyed by the floods are searched.