Take That Sandy! David Letterman & Jimmy Fallon Tape Talk Shows In NYC – With No Audience!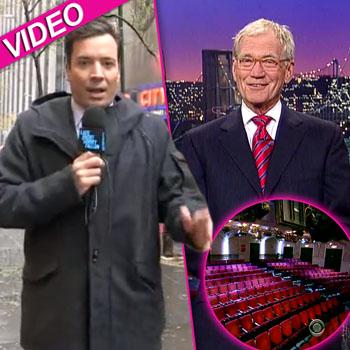 The show must go on -- even if there's no in-studio audience!
Both David Letterman and Jimmy Fallon taped new shows Monday despite Hurricane Sandy barreling down on the East Coast -- and they did it with an empty house.
Letterman -- who tapes in the historic Ed Sullivan Theater in Manhattan -- kicked off his monologue by saying: "We're in the middle of Hurricane Sandy and we have no studio audience, but we do have quite a show for you tonight. Thank you for joining us in the Ed Sullivan Shelter."
Article continues below advertisement
Paul Shaffer May Leave Letterman Show When Contract Expires In 2014
The CBS funnyman turned to bandleader Paul Schaffer to explain that Sandy was "one of the worst storms in U.S. history," and that experts were expecting 90 mile-per-hour winds and 12 inches of rain. Landfall was expected in Delaware and New Jersey at high tide, aided by the full moon.
"If I were home, I'd be boarding up your television sets, because this is the stuff that's gonna hurt somebody," Letterman deadpanned.
Among Letterman's Top 10 Rejected Names for the Storm: Al Frankenstorm, Trumpical Storm, Wetzilla, iPaddle and Oprah Windy.
David Letterman Grabs Justin Bieber's Arm: 'No More Tattoos!'
Although he didn't have an audience, Letterman did have a big-name guest. Oscar winner Denzel Washington showed up in a yellow raincoat. "Only for you, Dave," the Flight star said. "I swam."
Asked if he had ever been in a hurricane before, Washington joked, "Once, with Noah."
Article continues below advertisement
Meanwhile, Jimmy Fallon -- who tapes his NBC late night talk show at Rockefeller center in Manhattan -- also soldiered on without an audience.
Fallon -- donned in rain gear -- stood outside his studio at Rockefeller Center in midtown Manhattan to tape the introduction for his show, prior to the full force of Sandy hitting the city.
Although there wasn't a live in-studio audience, Fallon said: "All of our guests came which was big for us. We were worried that we weren't going to get guests, but we got some good ones here."
And it was a good line-up: SNL funnyman Seth Myers, Top Chef 's Padma Lakshmi, Flight director Robert Zemeckis, and musical guests Imagine Dragons.
"You are the audience," he said into the camera, "imagine the laughter, imagine the fun."
Watch the video on RadarOnline.com
Launching into his monologue, Fallon said in the empty theater: "Welcome to Late Night with Jimmy Fallon everybody, please keep it down."
Article continues below advertisement