David Letterman Grabs Justin Bieber's Arm: 'No More Tattoos!'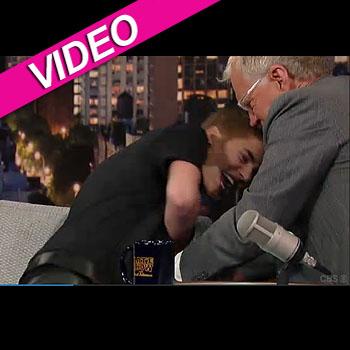 The generation gap was evident on The Late Show with David Letterman Thursday, as Dave seemed to take exception with Justin Bieber's growing interest in tattoos.
Letterman, 65, asked the 18-year-old pop star, "Explain this to me, is that a new tattoo?"
"This is a new tattoo," the Baby singer said.
"Oh God, how many do you have?" Letterman asked him.
"I have … just a couple," said Bieber, to which Letterman said, "Well, tell me that's the last one."
Article continues below advertisement
"Might be," Bieber told the crotchety Letterman.
PHOTOS & VIDEO: Selena Gomez Stunning In Santa Monica
"No, it is: Honestly, how does that help how you look to have a tattoo?" he asked.
Bieber barked back, "How does it not? It doesn't not help the way I look."
At that point, Dave grabbed Justin's new body art for further examination, which rankled the young superstar.
"Hey! Hey! Hey! Hey! Hey! This is brand new! Grandpas," Bieber sighed.
"Your mom can't be pleased with the tattoo," Letterman said, urging Bieber not to "go nuts" with the tattoos to the point where his flesh resembles the Sistine Chapel.
"I'm not going for the sixteenth chapel look," the Biebs shot back.
"Canadian High School," Dave wryly said.
Watch the video on RadarOnline.com
Justin's new album Believe is available now. The Late Show airs weeknights 11:35/10:35c on CBS.