Justin Bieber Delivers David Letterman's Top Ten List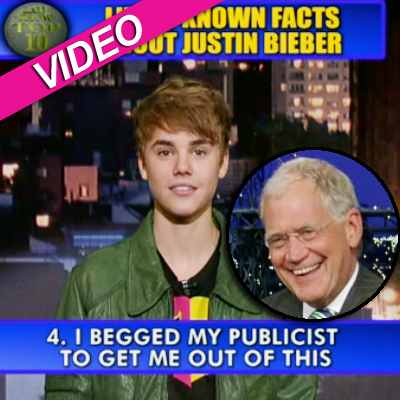 by RadarOnline.com Staff
Mega-star Justin Bieber appeared on The Late Show Wednesday to deliver David Letterman's trademark Top Ten List, to hilarious results.
The Baby singer counted down the Top Ten Little-Known Facts About Justin Bieber.
The results:
10. My new fragrance Someday also makes a delicious, low-calorie salad dressing.
9. I served eight months in prison for siphoning gas.
8. The first thing I bought when I hit it big was a four-slice toaster.
Article continues below advertisement
7. As hard as I've tried, I don't know how to not be adorable.
6. "Justin Bieber's" my secret identity, I'm really Green Lantern.
5. I'm not really a big fan of Kevin James.
4. I begged my publicist to get me out of this.
3. Last week I accidentally waited in line for two hours for my own autograph.
2. My mom had to remind me that he's not Larry King.
And the most little known fact about the Biebs ...