Hurricane Sandy Forces Coffins Above Ground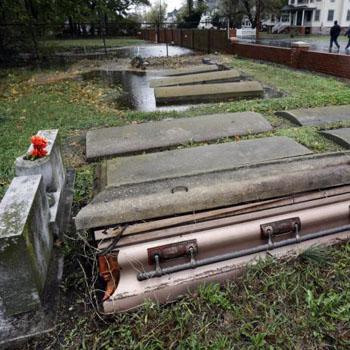 Hurricane Sandy's impact has been so severe, even those resting in peace haven't been able to do so in the eye of the ferocious storm.
In one of the most jarring images we've seen from its wreckage, the storm pounded the ground in Crisfield, Maryland so hard, that two caskets rose from the ground at a local cemetery.
The storm dislodged huge slabs of cement covering the caskets -- one silver, one bronze -- at a cemetery on North Somerset Avenue, according to local reports.
Article continues below advertisement
Hundreds of residents were evacuated from the Maryland crabbing town; as of early Wednesday, the storm had killed at least 55 people and caused property damage of $20 billion.
RELATED STORIES: