Boo Hoo Tebow! NY Jets QB Denies Being A Cry Baby Over Being Benched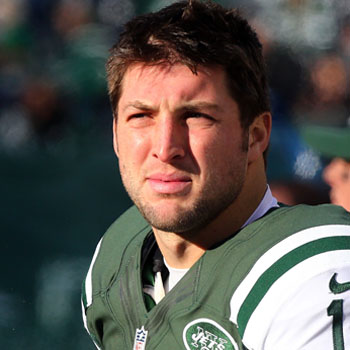 By Debbie Emery - RadarOnline.com Reporter
NFL star and famously devout Christian Tim Tebow usually ruffles feathers with his religious views but it was his comments about his football frustrations that have caused a standoff in the Big Apple.
The New York Jets quarterback had to eat a bitter pill when he was benched in favor of third-string Greg McElroy, prompting reports that he then had a hissy fit and vented his grievances to coach Rex Ryan by telling him not to use him in last Sunday's game against the San Diego Chargers.
Article continues below advertisement
"You work your whole life to build a reputation," said Tebow, reported the New York Daily News. "Then people try to bring you down when they don't understand even what happened. It's disappointing. You just want to express your side of the story."
The 25-year-old former Florida Gator is claiming that his comments in a team meeting were taken out of context, despite many believing that he was brought to New York more as a PR gimmick than a serious backup to Mark Sanchez, and he has since been spotted more often on the cover of GQ than the football field.
"I never said, 'Hey, I don't want to do anything. I won't do anything,'" Tebow said on Wednesday. "That wasn't the talk at all. He knows that. And everybody on this team knows that I would never not do something if I was asked. That's what's disappointing.
"People saying, 'Oh, you quit.' That was not it at all. It was just me asking to get an opportunity to play the position I love, which is quarterback. It wasn't me asking out of anything."
Article continues below advertisement
For a player with missionary parents who is known as much for his strict morals and alleged virginity as his touchdown passes, being accused of giving up on his team is an insult that cuts deep.
"For people to not know the situation and then start to bash your character and then say you're a phony or you're a fake or you're a hypocrite," Tebow explained. "I think that's what's disappointing and that's what's frustrating. Your character is who you are as a man and that's a lot more important… I take that way more serious than I'll ever take a football game."
The controversial QB has a least one high-profile fan on his side, after actor Josh Duhamel tweeted in his defense in response to anti-Tebow comments from ESPN analyst Merril Hoge.
"Hey Merril. Josh Duhamel here. Wondering why you're such a jealous expletive about Tebow? He's 10x the player you were," wrote the outspoken Win A Date With Tad Hamilton star.
The New York Jets have disappointed fans and players alike since Tebowmania hit to Manhattan after the 6'3" Heisman Trophy winner was replaced by Peyton Manning in Denver in March. The Jets are out of playoff contention while the Broncos are flying into the post season on a wave of success.