NRA Breaks Silence Post Sandy Hook: 'The Only Way To Stop A Bad Guy With A Gun Is With A Good Guy With A Gun'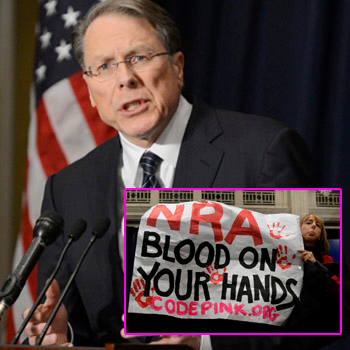 Article continues below advertisement
"The only way to stop a bad guy with a gun is with a good guy with a gun," LaPierre said during a press conference Friday.
"I call on Congress today to appropriate whatever is necessary to put armed police officers in every single school in this nation.
"For all the noise and anger directed at us over the past week nobody has addressed the most important pressing and immediate question we face," he continued. "How do we protect our children right now, starting today, in a way that we know that works?
"The only way to answer that question is to face the truth. Politicians pass laws for gun free zones...they brag about them, post signs advertising them, and in doing so they tell every insane killer in America that schools are the safest places to inflict maximum mayhem with minimum risk," he said.
The NRA remained silent last week, even taking down its Facebook page, after a vicious backlash slamming the organization noted for their gun advocacy.
MORE ON:
hollywood happenings
Article continues below advertisement
Last Friday, America fell into mourning after Adam Lanza ripped through Sandy Hook Elementary School with a Bushmaster AR-15 rifle, a Glock 9 mm and a Sig Sauer 9 mm – claiming the lives of 20 children and 6 adults before shooting himself dead.
LaPierre then turned his attention to the media – pinning the blame on movies and video games for glamorizing violence.
"There exists in this country, sadly, a callous, corrupt, shadow industry that sows violence against its own people," he said citing computer game Grand Theft Auto and films like Natural Born Killers and American Pyscho.