Sandy Hook Funeral For Daniel Barden: Firefighters Touching Guard Of Honor For 7-Year-Old Fallen Comrade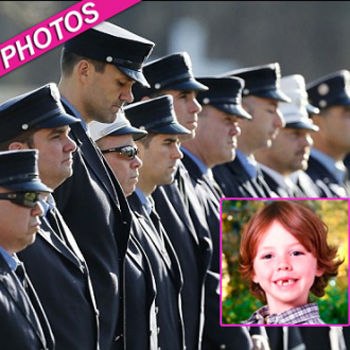 Article continues below advertisement
Friends, family and members of the fire bridge formed a touching honor guard as they gathered at the St. Rose of Lima Church in the rural Connecticut town to remember Daniel's "warmth, inspiring spirit of kindness and generosity."
As RadarOnline.com previously reported, Lanza, 20, shot dead his mother Nancy in her bed before taking an arsenal of her firearms to the school. As police drew in on him, he shot himself in the head, but not before killing a total of 26.
"Daniel wanted to be a firefighter when he grew up, I'm told," said Steve Elliott, a firefighter with New York's Ladder 23, who made the trip from Manhattan. "He has two uncles in the service and the word just spread. On Facebook, on Twitter, everyone just got right in their cars and drove."
By the time the service began at 10 a.m., dozens of men and women in their blue dress uniforms and peaked caps lined the driveway and spilled on to the main road, causing passing drivers to shed tears as they drove by.
Article continues below advertisement
According to Daniel's family, who described him as the "light of their life," the smiling boy was imaginative and outgoing, enjoying nothing more than playing drums in a band with his brother, James, 12, and sister, Natalie, 10.
"Our neighbors always said, 'He's like an old soul,'" mom Jackie Barden revealed during an interview on ABC's Katie.
While his father Mark Barden added: "He would hold doors open for adults all the time. Our son had so much love to give to this world. He was supposed to have a whole lifetime of bringing that light to the world."
During the final few hours of his life, before tragedy struck, Daniel played foosball with his mom – and won 10-8 as usual – and then learned how to play Jingle Bells on the piano.
After the funeral, Daniel will be buried at St. Rose Cemetery on Cherry Street.
There were six wakes and burials in and around Sandy Hook on Tuesday, including the school's principal, Dawn Hochsprung, 47, the heroic teacher, 27-year-old Victoria Soto and three other children: Charlotte Bacon and Caroline Previdi, both six, and Chase Kowalski, aged seven.