Exclusive
Red Cross Volunteer Describes Sandy Hook Victims Families' Heartache & Devastation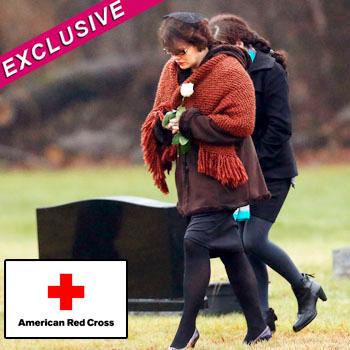 Article continues below advertisement
"The families are all going to Reed Middle School, which is where we have been feeding them and where the mental health workers congregated to receive and counsel everyone in any way they could. The remaining children were also taken care of there by trained adolescent experts and all the little brothers and sisters of the victims were given toys."
As RadarOnline.com previously reported, Adam Lanza, 20, shot his mother Nancy in her bed before taking an arsenal of her firearms to the school. As police drew in on him, he shot himself in the head.
The victims who lost loved ones in the shower of bullets that left 20 children and six adults dead were joined by brothers, sisters, aunts and uncles at the Red Cross support center as the community rallied together to help each other.
"The parents were in various conditions emotionally. They all stayed for several hours and I was surprised to see that, but I got the sense that they were really getting a lot out of it," Kemp told RadarOnline.com. "There was over 100 case workers and volunteers and 40 or 50 family members at any one point in a day.
Article continues below advertisement
"The youngest kids really didn't seem to understand what was happening, they had a nice day and got to play and have a lot of attention and supervision," he explained. "The little ones seemed happy and smiling when they left. It was like they had gone to the park - they just don't understand what death is.
"What was harder is when there was a group of six or eight teenage girls together and they were holding each other up. They were struggling."
Surrounded by crying and grieving parents who had lost their beloved children, the loving father and new grandfather revealed that he was most touched when they thanked him for his help.
"That they had been through all of this and then still thanked me for being there, that was hard for me as I didn't expect it," he said.
"It is very difficult to accept their appreciation and say that to them, you just choke up. I feel bad that I can't respond fluently and easily, I found it difficult to express myself back but this is the least I could do.
Article continues below advertisement
"The Red Cross has brought a great number of licensed mental health counselors here. There are so many other agencies too -- ­ Save The Children, the Southern Baptists, the Billy Graham people ­ who all gather when there are disaster situations.
"It is hard to judge how the atmosphere in Newtown has changed as I wasn't here before, but everyone has said it was close-knit and friendly in the first place, but certainly those who live here are doing what they can."
What is next to decide for the rural New England town is the future of the surviving students and how they will get back into the routine of school in the wake of such a tragedy.
"It has just been decided that some of the smallest children will be going to school in one of the nearby towns," he explained. "And there is quite a bit of conversation about whether they will ever open the elementary school up again. That remains to be seen."
Article continues below advertisement
"Anyone can understand how hard it must be to go back there. I do not know what that is going to result in. All the children are off school right now, two funerals occurred on Monday and the rest will happen over the next few days so there is a lot of the grief counseling going on."
With Christmas just around the corner, the volunteers are hoping that their work will be done in Newtown by the weekend so they can return to their own loved ones ­ and no doubt hug them even tighter than ever.
"I got home on Saturday night, and my wife asked how it went, and I couldn't speak, I couldn't get the words out of my mouth," Kemp revealed to RadarOnline.com. "I know that I will need some mental health help myself as our counselors take care of us too. This is only day three for us, we're spending all of our adrenalin and energy here and really not sleeping well."
A veteran of many years volunteering for the Red Cross, the huge-hearted man revealed that the devastating aftermath in his home-state is one of his most challenging assignments yet.
Article continues below advertisement