LeAnn Rimes Obsessed With Brandi Glanville, Insider Says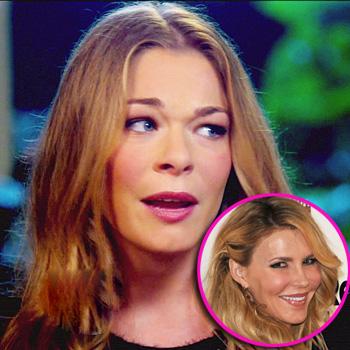 Since hooking up with Eddie Cibrian more than three years ago, LeAnn Rimes has been at constant odds with the actor's ex-wife, Brandi Glanville, and an insider tells Star magazine the long-running feud has worn the singer down to the point that she's hanging on Brandi's every word, and emulating her in any way possible.
"It's out of control, the way LeAnn stalks Brandi," an insider tells Star. "Even LeAnn's friends think it's weird, but she can't seem to help herself.
Article continues below advertisement
"If Brandi tweets a picture of herself in a bikini, LeAnn does the same thing. If Brandi talks about becoming a dermatologist, LeAnn suddenly starts talking about it on Twitter…it's really strange!"
Brandi, 40, has picked up on the Single White Female vibes from LeAnn -- and blasted the 30-year-old singer for her copycat ways.
"Someone is obviously stalking my facebook & copies my every move, even my bikini pics!!" the Real Housewives of Beverly Hills beauty tweeted last year after LeAnn kept putting up suspiciously similar pics to the ones she was posting. "Creepy! I said it once I will say it again STALKER!!"
Brandi's longtime confidante Jennifer Gimenez tells Star she believes LeAnn's severe lack of self-esteem is the root cause of her unusual behavior.
PHOTO: LeAnn Rimes & Brandi Glanville -- BFFs?
"She copies everything that Brandi does," Jennifer says. "She even exchanged her black Range Rover for a white one because that's what Brandi drives! If Brandi gets a new bag or shoes, within a week you will see LeAnn with the exact same thing."
Article continues below advertisement
The issues run so deep, insiders say, that LeAnn even seeks out the same professionals Brandi employs to keep up with her longtime love rival.
"LeAnn used Brandi's boob doctor, Garth Fisher; her dentist, Dr. Duane McKay; her hairstylist, Kim Vo; her dermatologist, Dr. Harold Lancer; and the same Botox guy at Dr. Applebaum's!" the insider says. "It is disturbing -- she finds out who Brandi uses, then goes out of her way to book an appointment with them herself."
One source says the obsession is tied to LeAnn's insecurity in her marriage to Eddie, a Hollywood hunk with a history of cheating.
"Ever since LeAnn got Eddie, all she can think about is how to keep him, and it's making her act like a lunatic," the source tells Star. "She has it in her head that if she looks and acts just like Brandi, Eddie won't ever leave her.
"Which obviously makes no sense, because Eddie cheated on Brandi with LeAnn!"