Barefoot LeAnn Rimes Knocks Brandi Glanville During Live Show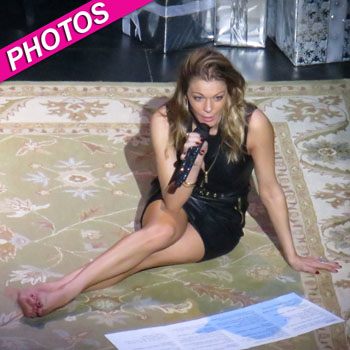 By Jon Boon - RadarOnline.com Reporter
LeAnn Rimes staged a bizarre barefoot performance at a concert in California and couldn't wait to give Brandi Glanville a jab.
The 30-year-old country star appeared Wednesday night at the Civic Arts Plaza in Thousand Oaks clad in a figure-hugging leather dress in front of around 1,800 people where she kicked off her heels and sat down on a rug on stage during the end of the show.
Article continues below advertisement
And LeAnn couldn't help but aim a dig at the expense of The Real Housewives of Beverly Hills star. She mumbled to her audience: "Anybody ever been pissed off at some point and you just couldn't get it out. And if you did, you actually might dig yourself a deeper hole, so you just let the other person dig themselves a hole?"
Glanville, her ex-husband Eddie Cibrian and his wife LeAnn have been feuding over whether one of their kids ate a laxative belonging to LeAnn thinking it was candy.
Article continues below advertisement
And in an explosive interview with Us Weekly, Brandi ripped into LeAnn alleging that Rimes has a "severe eating disorder" and that Mason became "extremely ill" after accidentally ingesting one of LeAnn's laxatives.
In an email sent by Eddie to Brandi he accused her of being consumed with "wine and narcissism" while she shot back taunting him on Twitter to "find ur balls" and "MAN THE F**K Up eddie put the tequila down and be a proper parent.