Exclusive
Glanville Vs Rimes: Things Got Really Ugly Really Quick After Brandi Was Accused Of Bad Parenting!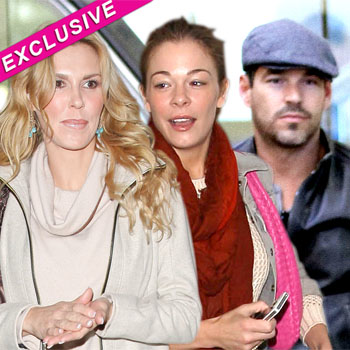 Article continues below advertisement
PHOTO: LeAnn Rimes & Brandi Glanville -- BFFs?
"Numerous different people told Brandi that they were concerned that when she had her sons with her she wasn't paying enough attention to them and was distracted with everything else going on in her life."
Brandi and Eddie have joint custody of the boys, Mason and Jake Cibrian, but the Real Housewives of Beverly Hills star has been adamant lately that she doesn't want the children around LeAnn because she claims she is "unstable."
The source says the recent spat of fighting between Brandi, LeAnn and Eddie started, and then began escalating, over the past two weeks after Eddie learned of the concerns about Brandi's parenting. The source adds that things had always been pretty bad between Brandi and Eddie and LeAnn, "but when Eddie heard that people were saying that Brandi's actions around the kids were questionable, that's when the relationship really started to sour."
Article continues below advertisement
As RadarOnline.com previously reported, the outspoken single mom ripped into LeAnn in an explosive Us Weekly interview, alleging that Rimes has a "severe eating disorder" and that Mason became "extremely ill" after accidentally ingesting one of LeAnn's laxatives.
In an email sent by Eddie to Brandi he accused her of being consumed with "wine and narcissism" while she shot back taunting him on Twitter to "find ur balls" and "MAN THE F**K Up eddie put the tequila down and be a proper parent."