LeAnn Rimes Breaks Down Talking About Her Extramarital Affair With Eddie Cibrian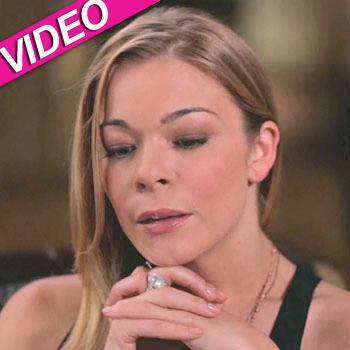 LeAnn Rimes can't stop talking or tweeting or crying about her life with Eddie Cibrian -- a relationship that began when they were both married to others.
"All I wish is that everybody we hurt, that I hurt, can be happy," Rimes told Giuliana Rancic in 'E! Special: LeAnn Rimes' airing Sunday.
"I wish I handled it differently because I wish I could have been better for me, for Brandi, for Dean, for Eddie, for everyone else," she added before dissolving into tears.
Article continues below advertisement
Rimes and Cibrian met on the set of their 2009 Lifetime movie, Northern Lights. She was then married to Dean Sheremet; Eddie was wed to Brandi Glanville.
They both subsequently divorced their spouses and wed in April, 2011.
"No one will ever understand how much thought and hurt were put into our decision" to end their respective marriages, LeAnn added.
As RadarOnline.com has been reporting, Rimes and Glanville have been in an ongoing Twitter war, primarily how Eddie's two sons are being raised.
Real Housewives of Beverly Hills star Glanville simply went ballistic last Sunday when Rimes referred to Jake and Mason Cibrian as "her boys."
PHOTO: LeAnn Rimes & Brandi Glanville -- BFFs?
The battle went on several days with Glanville accusing Rimes of having an "eating disorder" and Cibrian adding to the battle by going public with a claim that his ex-wife has "severe mental issues."
It was only weeks ago that Rimes broke down into tears when talking to Katie Couric about her recent stay in a treatment center, for what she said was to learn how to better deal with "anxiety and stress."
MORE ON:
hollywood happenings
Article continues below advertisement
Well, she's still crying, and trying to explain to Rancic why she and Eddie acted on their feelings for each other when they were both married to others.
"I don't think anything can separate anything that's super-connected. You might have had so many wonderful things with each other's spouses in your relationship, but something along the way broke that. You can't break what's broken already."
Come again?