Haunting Video Gives Insight Into The Mayhem & Terror Inside The Doomed Costa Concordia Cruise Ship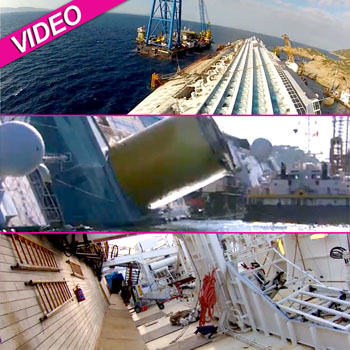 By Debbie Emery - Radar Reporter
As the first anniversary of the Costa Concordia cruise ship disaster approaches, surreal new video footage from the depths of the ocean are revealing new details of the liner's watery gravesite.
"You've got this giant thing that's three football fields long sitting on a slanted mountainside underwater," said 60 Minutes producer Rich Bonin, regarding the news show's TV special on the mammoth salvage project. "It's like nothing you've ever seen before."
Article continues below advertisement
As RadarOnline.com previously reported, the $450 million vessel crashed into a reef four miles off course near the Italian island of Giglio near Tuscany on January 13, taking 32 people down with it.
Survivors described the chaos and panic on the ship as they desperately tried to escape, while Captain Francesco Schettino accidentally "tripped" into a lifeboat and was shuttled to safety.
Weighing in at 114,000 tons, the stricken ship was twice as big as the Titanic, which earned a place in history after taking 1,500 souls down with it on April 15, 1912 following a collision with an iceberg.
The wreckage of the Costa Concordia lies stranded beneath the surface of the spot where it sank and the documentary crew's biggest challenge was to get close enough to the ship to capture insightful images.
One way they tackled the problem was by flying miniature cameras above the ship, using remote-controlled drones steered by camera operators with joysticks from a nearby dinghy or from the shoreline.
Article continues below advertisement
The disturbing documentary shows the former deck where passengers used to sunbathe turned on its side and the cruise ship's swimming pool lies half submerged in the sea, while producer Bonin describes the topsy-turvy mayhem. "You could see people walking across what used to be the side of the ship - and is now the top of the ship.
"The salvage workers hang their equipment on the very floor where the passengers used to sunbathe or sip their cocktails."
Even the experienced filmmaker was moved by what he experienced in the icy winter waters of the Mediterranean.
"You realize that at 1 a.m. in January on a freezing cold night, people were slipping down from the top of the deck down into the freezing cold water," he said. "Everyone knows this was a scene of a tragedy and it affects you."
Meanwhile, back on dry land prosecutors have concluded their investigation into the shipwreck and are preparing to seek a trial for its captain and seven other crew members, a magistrate said on Thursday.