Exclusive
Winter's Mom Wants Court To Order Daughter Who Has Guardianship Of Ariel To Produce Financial Records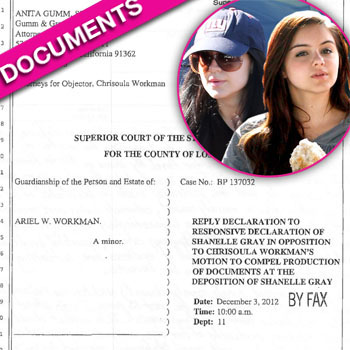 Article continues below advertisement
DOCUMENTS: Ariel Winter's Mother Requests Her Guardian Older Daughter Be Ordered To Disclose Financial Records
Workman's lawyer has filed court documents asking a judge to order Gray to complete an income and expense declaration, bank statements for the last year, tax returns, and source of income.
According to the docs, "These statements coupled with her tax return and completed income and expense declaration will present a more accurate picture of her ability to properly care for the minor child according to her duties as the minor's guardian."
As previously reported, following a very public and nasty split from her parents Winter will stay in the legal care of her older sister, pending the battling family's next court date.
L.A. County Superior Court Judge Michael Levanas made the decision to continue to grant temporary guardianship of the 14-year-old to Gray after considering court documents filed on behalf of Winter alleging physical and emotional abuse at the hands of her mother.
MORE ON:
Chrisoula Workman
Article continues below advertisement
"Ariel Workman has been the victim of on-going physical abuse (slapping, hitting, pushing) and emotional abuse (vile name calling, personal insults about minor and minor's weight, attempts to 'sexualize' minor, deprivation of food, etc) for an extended period of time by the minor's mother, Chris Workman," the documents allege.
Chrisoula vehemently denied the claims in an exclusive interview with RadarOnline.com.