'Modern Family' Star Ariel Winter Steps Out Amid Family Abuse Drama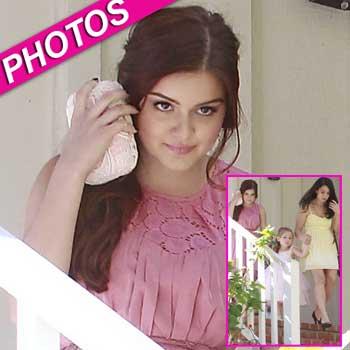 Ariel Winter put aside her family drama to enjoy a day out with her sister and niece in Los Angeles on Saturday.
The 14-year-old has been removed from her mother's home amid a storm of abuse allegations and is currently staying with her sister, Shanelle Gray, who has been awarded temporary guardianship.
However Ariel is refusing to let her family woes get her down and looked pretty in pink as she put on a united front with Shanelle and her niece Skylar.
Article continues below advertisement
As RadarOnline.com first reported, Ariel is seeking legal emancipation from her parents.
She is now living with her sister following claims made in a petition by Shanelle that their father, Glenn Workman, is "incapable of properly caring for a minor."
The young actress was placed in her sister's care on October 3 amid further claims that her mom, Chrisoula Workman physically and emotionally abused her.
"Ariel Workman has been the victim of on-going physical abuse (slapping, hitting, pushing) and emotional abuse (vile name calling, personal insults about minor and minor's weight, attempts to 'sexualize' minor, deprivation of food, etc) for an extended period of time by the minor's mother, Chris Workman," the documents state.
However Chrisoula denied the claims in an exclusive interview with RadarOnline.com.
Article continues below advertisement
"There are absolutely no grounds to say that Ariel's father, and my husband, Glenn is capable of caring for our daughter," she said. "There are no issues that would render him incapable of being Ariel's father.
"As for why there are claims otherwise, well, all I can say is that Ariel is a rebellious 14-year-old teenager," she said. "I love my daughter and want her back. I'm very concerned for her safety and well-being."