Modern Family Star Ariel Winter's Family War Explodes Over Abuse Allegations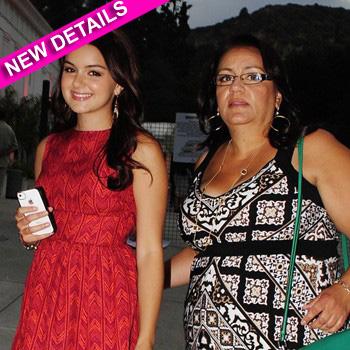 Abuse allegations against the mother of Modern Family's Ariel Winter have split the teen star's immediate family, pitting relatives against each other, RadarOnline.com is reporting.
After the National Enquirer reported that Ariel is seeking legal emancipation from her parents, Glenn and Chrisoula Workman, the family's dark secrets quickly spilled into the public spotlight.
Ariel, 14, was removed from Chrisoula's home by an October court order after allegations of physical abuse that included "slapping, hitting and pushing", according to one report. The child star is living with her older sister, actress Shanelle Gray.
Article continues below advertisement
Shanelle was given temporary custody of Ariel, says a report that has not been refuted, and the older sister was also removed from the mother's home two decades ago, according to that same report.
But as RadarOnline reported, Chrisoula denies all the allegations and tells People, "It's all untrue, it's all untrue."
Chrisoula claims to have a doctor's letter that Ariel has never been abused and bizarrely added, "I have stylists' letters that she's never been abused."
Now, with Shanelle remaining publicly silent but clearly lined up against Chrisoula, another family member is taking the mom's side.
Jimmy Workman, Chrisoula's son, claims all the abuse charges against his mom are false.
"There is no truth to these allegations," he told Us Weekly. "The allegations made 20 years ago are not true and the ones today are not true."
He continued about Chrisoula: "This is a mother who does everything for her kids. Chris misses Ariel and wants her to come home."