Va-Va-Voom! Ellen DeGeneres Playfully Mocks Sofia Vergara For Halloween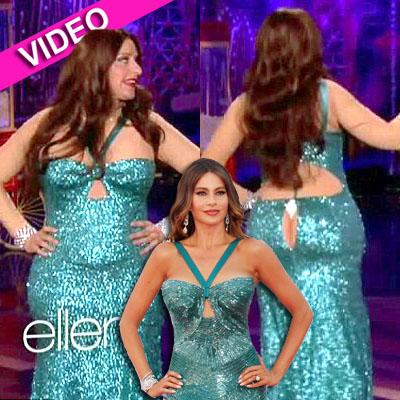 Article continues below advertisement
In the sketch, Ellen, 54, came out and performed her monologue with an over-exaggerated twist on the Modern Family star's Colombian accent, mocking her guest with a hilarious stream of tongue-in-cheek humor until the Latin bombshell herself came into the frame, huffing, "Your a** looks huge!"
"I can also speak American English like you," the 40-year-old told the host, before addressing Ellen's exaggerated twist on the booty-baring dress slip.
MORE ON:
Wardrobe Malfunction
Sofia said, "What is this? My dress was not like that!" to which Ellen said, "Yes it was like that!"
The pair wrapped up the sketch with a dance to Pitbull's 'I Know You Want Me'.
Watch the video on RadarOnline.com
As we previously reported, sexy Sofia wasn't fazed by the malfunction whatsoever, as she tweeted a revealing pic of the torn dress after the Emmys, with the note, "Yes!!!! This happend 20 min before we won!!!! Jajajajja. I luv my life!!!!"