Sofia Vergara's Son Spills The Beans: 'My Mother's Longtime Boyfriend, Nick, Proposed To Her'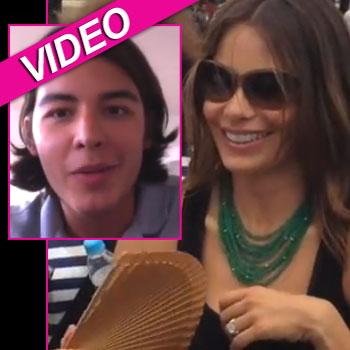 Sofia Vergara's son Manolo says in a Youtube video, "My mother's longtime boyfriend, Nick, proposed to her," practically confirming her engagement to Nick Loeb -- even if she has yet to do so!
As we previously reported, news leaked last month that Loeb, Sofia's on-and-off boyfriend of two years, proposed to the 40-year-old stunner at the Mayan ruins while on a Mexican vacation last month, though Sofia has yet to speak publicly on the engagement.
Article continues below advertisement
Manolo, in an 8-minute video in his Youtube series he has called Mi Vida Con Toty, talked about his mother's fondness for the landmark, then let the big news slip.
Watch the video on RadarOnline.com
"As a little girl, she always wanted to go to the top of the pyramids. Unfortunately, people are not allowed to do that anymore. But since it was her birthday, her team worked for months on end to get her special permission to go up!" Manolo, 19, says in the clip. "Once they were to the top of the pyramid, my mother's longtime boyfriend, Nick, proposed to her."
In the video, the Colombian stunner beams as she walks down from the ruins, showing off a sparkling diamond ring on her left hand.
In related news, Sofia this week got back to shooting Modern Family, as the cast's salary dispute was resolved.