Zach Galifianakis Is Engaged, August Wedding Planned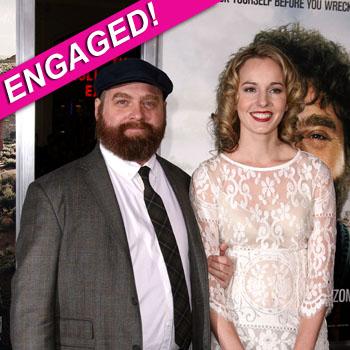 The Hangover's Zach Galifianakis has expanded his wolf-pack to two, and has another reason for a bachelor party.
Galifianakis, 42, is set to wed his longtime girlfriend Quinn Lundberg on August 11.
According to Celebuzz, he's already sent out invitations that live up to his humorous reputation.
"While it has the formal and standard details of who, what, when, where -- including Zach's full name Zachary Knight Galifianakis and his fiancée's, Mary Quinn Lundberg -- it is also very funny," the source said.
Article continues below advertisement
"Zach included a drawing of himself and his bride-to-be. He made sure he looked like a little troll, while Quinn is a stunning tall blonde princess."
Quinn, 29, is the co-founder of a charity group called Growing Voices and the one-time ballerina has done extensive volunteer work for UNICEF in Afghanistan, Bosnia, and Africa.
No word yet if Bradley Cooper, Ed Helms and Justin Bartha were invited.
RELATED STORIES: