VIDEO: New Friends? Tila Tequila Meets Jennifer Aniston, Thanks To Zach Galifianakis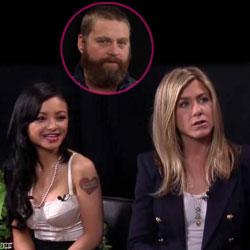 Two unlikely forces in Hollywood converged Tuesday, when A-list actress Jennifer Aniston met reality TV star Tila Tequila in a skit orchestrated by Zach Galifianakis on his web series, Between Two Ferns, for FunnyOrDie.com.
Watch the video on RadarOnline.com (Caution: contains adult humor)
In the segment, Aniston came out to a pathetic version of the Friends theme, and seemed awkward and disoriented by the vibe in the room. Galifianakis introduced Tila to Aniston as the star of a reality dating show.
Article continues below advertisement
"You're in a reality show?" Aniston asked Tila. "How did that go?"
Aniston said she was there to promote her new film Just Go With It, which co-stars Adam Sandler, who Tila said she's worked with, as well.
"He's really nice," Tila said of Sandler.
"One of the nicest!" Aniston agreed.
Aniston ended the tongue-in-cheek segment walking off set in a huff, before giving Galifianakis a piece of her mind for 'ambushing' her with Tila.