Modern Family Cast Scores Big Payday After Contract Dispute Settled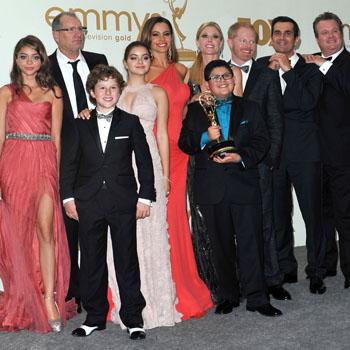 Production will kick off on the fourth season of Modern Family Monday, after the cast was involved in a contract dispute that was settled Friday.
The show's stars Sofia Vergara, Ed O'Neill, Julie Bowen, Ty Burrell, Eric Stonestreet and Jesse Tyler Ferguson, sued the show's producer 20th Century Fox last week, claiming their contracts were illegal, and should be voided.
"I don't know the terms of the deal, probably both sides feel it didn't end up where they wanted it to end up and that's usually the sign it was a well-executed negotiation," executive producer Christopher Lloyd told the AP following the settlement. (The Hollywood Reporter reported the actors will now each receive as much as $175,000 per episode; they had been making approximately $65,000 per episode.)
Article continues below advertisement
It is "great to have that not hanging over our head," Lloyd said, adding, "I think personally our actors got some bad advice … I have nothing negative to say about our actors."
As part of the deal, the cast reportedly agreed to add on an eighth year to their contracts, with their salaries reaching $350,000 per episode. They will also receive perks, like bonuses and a cut of back-end profits.
The show might not be out of the woods with the cast just yet, as child stars Rico Rodriguez, 13; Nolan Gould, 13; and Ariel Winter, 14, are reportedly in talks to consolidate their bargaining power and re-negotiate their contracts, though the trio is expected to be present for production Monday.