Kim Kardashian Among Stars Making Forbes' Highest Paid Actresses On TV List!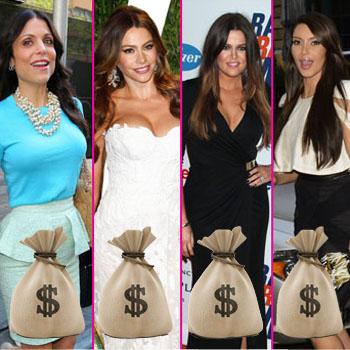 Article continues below advertisement
Khloe tied for the #5 spot with 30 Rock creator Tina Fey, with both women earning an impressive $11 million.
The leading lady is the lovely Sofia Vergara who topped the list with a whopping $19 million for the year!
The stunning Colombian beauty stars in the hit show Modern Family, but $12 million of her money came from her lucrative endorsement deals like Diet Pepsi, Cover Girl and a clothing line at Kmart. She's having a string of good luck lately -- she likely will be nominated for a second Emmy Thursday and she recently got engaged on the eve of her 40th birthday to her boyfriend Nick Loeb.
Sofia spoke to Forbes about being the biggest crossover star Latin America has seen in years. "The truth is out that we're in this country and we're taking over," she siad. "To see people paying attention to the cultural changes ... is fantastic."
Forbes calculates the earnings of the women from May 2011 to May 2012.
The top 5 list was rounded out with reality show star turned talk show host Bethenny Frankel at #4 with $12 million and the only other actress on the list, former Desperate Housewives star Eva Longoria, came in at #3 with $13 million.